Asian Countries On "A Race" To Lead World With Green Technology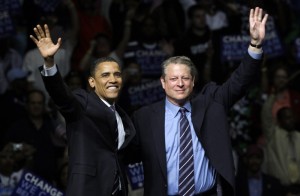 The United States has been very successful at having some of the most intelligent scholars, scientists, and inventors in the world. For example, Americans have done extraordinarily well at creating consumer electronics, but not too good at mass producing them. It is actually in Asian countries like Japan that the best cell phones, TVs, and video game machines have been produced and sold. What a missed opportunity for the US! Now we're trying to lead the world with a new type of technology, but other countries are already lining up to conquer that field — green technology.
South Korean Prime Minister Han Seung-soo said on Friday at the World Economic Forum in Seoul, that his country is ready to lead the world in the creation of green technology. According to the Korea Herald:
South Korea aims to lead the rest of the world in promoting environmental initiatives and developing clean technologies…Prime Minister Han Seung-soo also expressed confidence that South Korea could reshape its export-dependent business model through a "low-carbon, green growth" strategy.
But South Korea is not the first industrialized country that has come out saying that they will lead the green revolution — Japan and China have each said that they will be the ones with the innovation and resources to provide the world with clean and environmental-friendly products.
Since it took power the Obama administration has been ardently expressing Americans' need to produce cleaner cars, generate electricity using wind and solar power, and build greener buildings and homes. The president has talked about creating a "green economy" that gives people jobs in the green industry. Obama even committed $90 billion in the stimulus package to create technologies that will reduce climate change and save money for Americans.
The president has said things like: "We [the US] will make it clear to the world that America is ready to lead. To protect our climate and our collective security…"
He's also said this: "Our future on this planet depends on our willingness to address the challenge posed by carbon pollution. And our future as a nation depends upon our willingness to embrace this challenge as an opportunity to lead the world in pursuit of new discovery."
Certainly, the new administration wants to see the US develop: "Solar cells as cheap as paint; green buildings that produce all the energy they consume," etc. But the process to jumpstart this American "green job industry" has to be quick. The industrialized countries of the world, including the US, are all in a race to exercise "green power." Already Japan is the lead exporter of solar panels and the country is not going to stop there. They're already ahead with making fuel efficient cars like hybrids.
The key for the US will be to create business models that allow private industry to produce and profit from green technology products. It's hard to do this when there aren't enough venture capitalists taking a chance to invest in these companies, and even worse when the government is not committed to provide subsidies for this type of innovation.
The Obama administration has to act quickly. American workers can't miss another opportunity at not being the ones mass producing those solar cells and panels and those fuel efficient cars. Countries like Japan, China, and South Korea are not going to wait around to see when we lift a finger. Americans made history being first on the moon, we can make history again by being first at developing the green technology that will turn our economy around and that will put an end to global warming.