The Comedian Is In The House….I Mean, The Senate.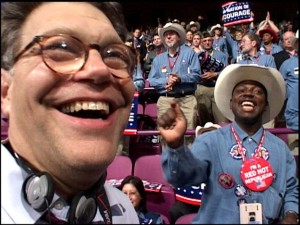 Opinion by Dolores M. Bernal, NEWS JUNKIE POST
Al Franken's talents have now taken him to new heights. After being a comedian, a writer, a radio personality, and an actor, he's now on his way to occupying one of the most important seats in political office — U.S. Senator.
His opponent, Republican Norm Coleman, a former Democrat, went to some serious lengths to not let that senate seat go to a funny guy. He contested the election results and fought tooth and nail to get every single vote counted in hopes to build even a slim lead over Franken. Instead, the recount just gave Mr. Funny Man a bigger lead — from an original 225 votes counted to 312 in the recount.
It surely hasn't been a humorous ride for Franken though, those seven months of court hearings, meetings with lawyers, etc. must have made him mature a little. Still, Franken will be the first comedian to represent the "Land of 10,000 Lakes" in the senate. Even the state's motto is, I don't know…funny.
Some interesting characters make it to political office in Minnesota; I'm talking also about former Governor Jesse "The Body" Ventura, a professional former wrestler and actor. Now that I recall Ventura and the Governor of California, Arnold Schwarzenegger were stars in the same 1987 movie, Predator. How funny is that?!
There are plenty of ironies in politics; Republicans thought they were going to get the last laugh at having the ability to filibuster Democrats in the Senate. Now, the one laughing will be Senate Majority Leader Harry Reid (D-Nevada). Ouch!
Stand up comedy will never be the same in Congress with a professional comedian in the House, oops, I mean Senate. All those amateurs that think they're funny at those lavish fundraising dinners will have to work on their routine a little harder. Humor matters in politics — Obama has a knack for make journalists laugh that's probably one of the reason they like him so much.
Here at the NEWS JUNKIE POST we're bringing you a couple of YouTube videos to look at about Al Franken before he decided to run for office. Let history be written that a man with a gift for making people laugh, can also have the power to go far in the political realm. Nothing is impossible in America.
A "retro" look of Al Franken before he got into politics.

Danny DeVito introduces Al Franken

5n3bsmczw9