"America's Toughest Sheriff" Entangled In Web Of Legal Problems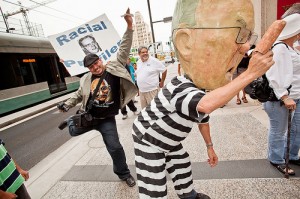 "America's Toughest Sheriff," Joe Arpaio of Maricopa County, Arizona will get a new judge at a trial where he faces racial profiling charges. Arpaio, a foe in the immigrant community of Phoenix and surrounding areas has been in the national spotlight recently after federal investigators began a probe of the Maricopa County Sheriff's Office over civil rights violations.
Arpaio has served as sheriff of Arizona's most populated county since 1996. Several human rights and immigrant organizations have criticized him for targeting Latinos and enforcing immigration powers that were drafted in 2005 by one of his allies, County City Attorney Andrew P. Thomas.
According to MALDEF, hundreds of U.S. Citizens and non-citizens of Latino background have been unlawfully detained and questioned by Arpaio and his deputies over their skin tone alone. Such raids by the department have been called "crime suppression" operations, which civil rights groups define as "going after illegal immigrants first, and the crime second."
But last July, a lawsuit was filed against Arpaio and his department by Jesus Ortega Melendrez, a Mexican national and a retired school teacher with legal papers to be the United States. Melendrez alleges that he was a victim of racial profiling on September 26, 2007 when he was wrongfully placed under arrest for nine hours.
According to court documents, Melendrez was a passenger in a car that was stopped by sheriff deputies for speeding, although the Caucasian male driver was never given a citation. The officer looked inside the car and asked Melendrez for his documents. The deputy "roughed" Melendrez, pushed him against his vehicle, patted his body up and down, cuffed him, took him to jail, and then to the ICE office in Phoenix.
At the ICE office, Melendrez was put in a detention center, but was freed after the ICE officer saw that his papers were legal. During the whole ordeal, court papers state that Melendrez was never read his Miranda rights, was not given any food or water, was not given the chance to make a phone call, and was never told why he was under arrest.
After filing the lawsuit, Arpaio's office tried to have the case dismissed, but in February the Federal Court of Arizona denied the motion and it was allowed to continue. Now a new development may delay the case. According to a press release issued by Arpaio's office on July 17, the case will be reassigned to a new judge by the Clerk of the District Court because the judge assigned to handle his case, Mary Murguia, has an identical twin sister, Janet is the CEO of the National Council of La Raza (NCLR) — an organization that has denounced Arpaio's racial profiling of Latinos since 2005.
In March, the National Council of La Raza issued this statement about the Melendrez v Arpaio lawsuit:
For some time we have been concerned about Sheriff Joe Arpaio's abuse of authority under Maricopa County's 287(g) contract with the U.S. Immigration and Customs Enforcement. Arpaio has made it clear that he and his deputies have little regard for due process, civil liberties, and their obligation to protect all residents of Maricopa County. We look with hope to the Civil Rights Division investigation. We hope that the Department of Justice will send a signal to local law enforcement agencies throughout America and restore the rule of law to Maricopa County. This is long overdue.
Murgia fought to stay in the case despite the sibling relationship, but may have chosen to recuse herself to avoid a possible mistrial where the case could have been dismissed entirely. According to the Phoenix New Times:
Murguia disagreed with almost all of the defense's arguments in her 27 page order, pointing out that "no reasonable person would automatically ascribe the views of one sibling to another." However, she ultimately concluded that, "the Court is mindful that it must be vigilant to avoid even the slightest appearance of impropriety," and granted the defense's motion for recusal, directing the clerk of court to reassign the case to another judge by random lot. This has already been done, and the case is now assigned, at least temporarily, to the Honorable Lawrence O. Anderson, a Magistrate Judge.
It's no rumor that Arpaio's attorney ardently sought Murgia's resignation from the very beginning and was able to get what he wanted, yet Arpaio's quote in the release makes it seem as if the Judge Murgia decided to recuse herself out of "wisdom."
"I think the judge reached the right result in this case," said Arpaio. "I never thought the judge had any racial or cultural bias at all. I think that the statements and articles authored by her twin sister showed Janet Murguia's personal hatred and animosity toward me and my deputies. The judge demonstrated wisdom and common sense in reaching this decision. It is far better to let this case go forward with not even a remote appearance of impropriety that could affect the public's perception
of fairness.
The ACLU along with other civil rights groups, who have backed Jesus Oscar Melendrez, claimed that Arpaio's attorney's request to have Judge Murgia resign from the case was baseless.
"Our position was that there's absolutely no reason in the law where she has to recuse herself," said ACLU legal director Dan Pochoda. "We thought [recusal] was not required, but if the judge thought so, so be it."
Nevertheless, Arpaio's legal problems won't go away. The U.S. Department of Justice is probing the sheriff's office for civil right violations prompted by the Melendrez case. According to reports, Arpaio's office has refused to cooperate.
"The Justice Department's independent investigation of the Maricopa County Sheriff's Office is open and ongoing. Since the outset, we've been clear that the Civil Rights Division began looking into this matter last year and decided to open an investigation based on facts and the department's duty to impartially enforce the law," said Justice spokesman Alejandro Miyar.

"Unfortunately, the Sheriff's Office has not cooperated with this investigation. We hope that the Sheriff's Office will change course and begin cooperating with the investigation. We look forward to working with the jurisdiction if it ultimately decides to cooperate with our investigators," Miyar said.