Caterpillar Posts Higher Earnings Months After Major Layoffs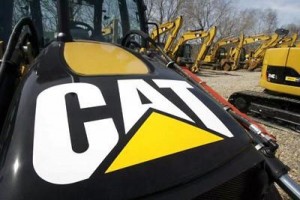 Caterpillar, the construction machinery company that eliminated thousands of positions earlier this year, has posted high profits during the second-quarter.
It was at the height of layoffs in January when the Illinois-based company's CEO Jim Owens, made headlines announcing that 24,000 employees were going to be let go. Projecting a gloomy 2009, Owens issued this statement: "These are very uncertain times, and it's imperative that we focus … on dramatically reducing production schedules and costs in light of poor economic conditions throughout the world," Owens had said on a statement.
In February, Owens told President Barack Obama that he would rehire some of the workers if the stimulus package passed. Obama invited the 63-year-old to be part of his Economic Advisory Board. It's unclear if Owens actually rehired back those workers.
Nevertheless, the future now seems to look bright again as Caterpillar, who employs over 100,000 worldwide, has analysts saying that the stimulus is beginning to kick in and that Caterpillar's earnings paints a good picture for investors. Owens agrees. He issued this statement:
"We are seeing signs of stabilization that we hope will set the foundation for an eventual recovery," Owens said in the statement… Credit markets have improved significantly. Fiscal policy and monetary stimulus have been introduced around the world, and we are seeing signs, particularly in China, that they are beginning to work."
According to Bloomberg, "The company raised its full-year forecast to $1.15 to $2.25 a share excluding some items, above analysts' average estimate of $1.12. Sales will be from $32 billion to $36 billion for the year, in line with the average estimate of $34.8 billion."
Owens didn't mention anything on his statement on Tuesday about hiring all those people who lost their jobs when the company was tanking.
For Bloomberg's report, click here.