Honduran President Says He Will Cross The Border And Return To Power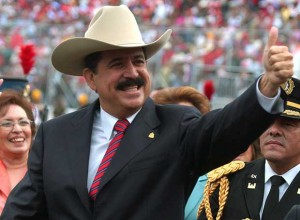 Honduran President Manuel Zelaya is in Nicaragua on Saturday, looking for ways to cross the border into his country despite threats by the de facto regime that he will be arrested the moment he sets foot on Honduran land.
El Salvador's newspaper, La Prensa Grafica, reports that Zelaya showed up in a white Jeep wearing his cowboy hat and determined to cross.
"We can cross the border through El Salvador and Guatemala; on all sides we're well organized!" Zelaya told a local radio station.
Zelaya was deposed from power on June 28, when military soldiers entered his mansion at dawn and forced him to leave the country at gun point. The international community rallied behind Zelaya and denounced the coup d'etat immediately. Several efforts to see that he returns to power have failed. Even Nobel Peace Prize winner — Oscar Arias, the President of Costa Rica — has spent the last three weeks mediating Zelaya's return.
But the de facto government that has clenched to power, has staunchly refused to cooperate and allow Zelaya to return, even if he is only three months away from finishing his term.
Zelaya made an attempt to land on San Pedro Sula's airport a week after he was removed from power. As the plane tried to land, the pilot was told that he needed to turn around because the military on the ground "had blocked the landing strip with tanks."
Today's attempt at returning may work, but his arrest is certain.
"We have helicopters that can land directly on San Pedro Sula, I also have planes ready. I have the people on my side," he said on Saturday.
Hondurans that have protested on the streets of Tegucigalpa every day since Zelaya was overthrown have marched to meet him some 6 miles away from the crossing border. But according to reports, the military has forced the protesters to retreat by launching tear gas into the crowds.