Sotomayor Closer To The Supreme Court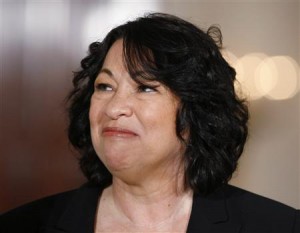 Judge Sonia Sotomayor is one step closer to becoming the first Hispanic to sit on the Supreme Court. The Senate Judiciary Committee voted to confirm her nomination. Only one Republican on the committee cast a vote in support. In doing so, he offered a stinging critique of his Republican colleagues. "Wise Latina" comments and the Second Amendment were sited as reasons for Republican opposition.
With only seven Republicans on the Senate Judiciary Committee, the deck is stacked against them. It was inevitable that Judge Sotomayor would pass through committee.
Democrats sang her praises. Chair Patrick Leahy said "there's not one example, let alone a pattern of her ruling based on biased or prejudiced or sympathy."
The opposing Republicans pointed to her "wise Latina" comments from a speech she gave to mostly Latino law students at UC Berkley in 2001 where she spoke about life experience's impact on the law.
Senator Chuck Grassley of Iowa said he is "not convinced" by Sotomayor's explanation of that speech.
"The statements made at the hearing and those made in speeches and law review articles are polar opposites of each other. They are not compatible and can not be reconciled," Grassley said.
South Carolina Senator Lindsay Graham was the sole Republican to support Sotomayor. The large committee room grew tense as he rebuked his Republican colleagues' obsession with her "wise Latina" comments.
"The speeches had to be put into context of her judicial record. I do not want to set a standard here….where people aspiring to be a judge never have a thought, never take on an unpopular cause."
Senator Graham said Supreme Court confirmations have become riled with politics, with many rejecting a judge based on ideology, forgetting that elections put people in the place of power to select judicial nominations.
"I am trying to take the Senate back to a different place, I think a better place," Graham said. "She is one of the most qualified people to be nominated in the history of the supreme court."
Her qualifications include 17 years as a judge, a stint as a corporate attorney and her first job as New York City prosecutor.
Senator Arlen Specter, the former top Republican on the committee, now turned Democrat, said he appreciated her "wise Latina" comments.
"I think that's a healthy thing to have a little ethnic pride. I didn't find fault with the wise Latina remark, I found it commendable," Specter said.
The powerful National Rifle Association lobby has flexed its muscle. They are working to oppose Sotomayor and have notified Senators that they will track their vote on her confirmation. This is the first time the NRA will take stock of a vote on a judicial nomination.
Republicans have responded to the alarm. They pointed to a case she decided, Maloney v Cuomo, that could have implications on the Second amendment.
Ranking Republican Jeff Sessions (AL) offered an extreme interpretation of the case.
"If her decision is not overruled by the Supreme Court…then any state or city in America can completely deny the right to keep and bear arms," Sessions said.
So far, five Republicans in the full Senate have come out in support of Sotomayor. The four in addition to Senator Graham include the only Hispanic Republican, Mel Martinez, and two of the four Republican women, Maine Senators Olympia Snowe and Susan Collins.
The full Senate could vote as early as next week.