It's Time To Talk About Healthcare And Stop The Fear Mongering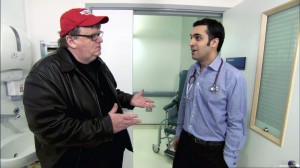 Opinion by Andrew T. Mason, blogger of "Andrew T. is on the Cut"
Two nights ago I saw that I think was probably the most infuriating segment I have ever seen on The Rachel Maddow Show. Sorry, right wingers, it wasn't Rachel that upset me, it was the subject matter.
On Tuesday, during the AARP town hall on health care, President Obama answered a question from a caller who expressed concern that after the health care reform bill is signed into law, the government is going to send people door to door, targeting the elderly, and asking them how they want to die. Obama assured the caller that this is not the case; he explained that there could be a provision that makes it easier for people to complete a living will, which allows people to voice their medical wishes in advance should they loose the ability to speak for themselves. He said that there was no way this bill would force her to make any decisions in that regard. Frankly, the government doesn't have the manpower, time, or interest to do such thing.
On the one hand, I appreciate the fact that the caller took the time to call and get a sensible answer directly from the President himself. I sincerely hope she found some ease. What upsets me the most is that she got this idea from somewhere. She heard a rumor that the elderly were going to be the big health care reform losers. Where is this idea coming from? I'll let Rachel take it from here:



I hope you resisted the urge to toss your computer out the window. It's this sort of thing that turns people away from politics. Health care is an issue that everybody should deeply vested in. If you're like me, this clip sets your hair on fire. If you're not like me, your hair is on fire, for different reasons. Regardless of your perspective, these fearmongers, sponsored by the insurance industry, will tell bold face lies and do whatever it takes to make sure real reform doesn't pass.
Instead of honestly debating the issue, they're going to make old folks believe that the Government is going to come to their house, take them out back, and put them out of their misery, Old Yeller style. It's insane!!! What's worse, is that it works!!! If it didn't, old ladies wouldn't be calling the President asking him to pledge that he's not going to have Government employees stopping by to inquire their preferred way to pass on to the next life.
There is one solution. If you aren't already, start talking to people. Find out how they feel about health care. Educate yourself to the facts and pass them along. Rent "Sicko" and watch it with your families. I'm willing to bet that you'll find that most people want reform, but don't understand truth from fiction because of nonsense like this.
Those that want to defeat reform are mucking up the message on purpose. They want to distract from the real issue of bringing good, affordable care to every American citizen. They don't care about that. They care about their friends in the insurance industry, who will get even richer should real reform fail.
It's time to do your part. It's time to fight the lies with the truth. It's time to talk about it.