List Of Republicans Who Voted Against Sonia Sotomayor On Thursday, Plus Personal Rant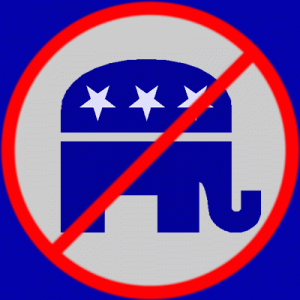 As a Latina and a US citizen who votes at every election, I will invest time and effort to tell my family members who are also US citizens and voters, to remember what Republicans did today when the majority of them voted against Judge Sonia Sotomayor.
It's an absolute insult to Latinos in this country – especially to those of us who have been here for generations – to hear Republicans say that the only things we care about are "jobs and the economy" and that therefore the GOP won't lose Latino voters after voting against Sotomayor.
If Latinos cared only about jobs and the economy, we wouldn't have a Latina like Sotomayor be devoted to the law. We wouldn't have a Latino mayor in Los Angeles. We wouldn't have other Latinos in office or running FOR office.
To say that we only care about "jobs and the economy" is a stereotype based on the view that Latinos are only here to slave for others. Yes, there are many Latinos who – like MOST other Americans – care about jobs and the economy. But, we also care deeply about the war, the environment, the justice system, and politics.
We have a lot of work to do as Latinos to build more alliances with Progressive Democrats of all colors and united defeat the fascist Republican Party. The ideology and backwardness that these conservatives hold is hypocritical, absurd, ignorant, racist, sexist, homophobic, ageist, classist, bigoted, and dangerous for America.
Fellow Progressives and Latinos, on the next election, a huge "NO" to those who voted against Sotomayor:
Barrasso (R-WY)
Bennett (R-UT)
Brownback (R-KS)
Bunning (R-KY)
Burr (R-NC)
Chambliss (R-GA)
Coburn (R-OK)
Cochran (R-MS)
Corker (R-TN)
Cornyn (R-TX)
Crapo (R-ID)
DeMint (R-SC)
Ensign (R-NV)
Enzi (R-WY)
Grassley (R-IA)
Hatch (R-UT)
Hutchison (R-TX)
Inhofe (R-OK)
Isakson (R-GA)
Johanns (R-NE)
Kyl (R-AZ)
McCain (R-AZ)
McConnell (R-KY)
Murkowski (R-AK)
Risch (R-ID)
Roberts (R-KS)
Sessions (R-AL)
Shelby (R-AL)
Thune (R-SD)
Vitter (R-LA)
Wicker (R-MS)