Group Of Rich People Wants To Pay More Taxes, Not Less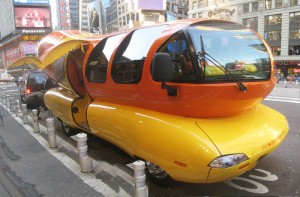 More taxes is just what some people want – and that is a fact.
A new group of wealthy individuals, called Wealth for the Common Good is promoting their cause in full force: "Let us pay our due amount of taxes." The group is calling for a reversal of the nice tax cuts they got under the W. Bush administration.
According to an article in the San Francisco Chronicle on Sunday:
…the group believes that people who have taxable income of more than $235,000 a year should support restoring their top federal income tax rate to 39.6 percent from 35 percent – and now, not in 2011, when the higher rate is scheduled to return anyway.
And don't think that the group members is made up of obscure figures. Among the founding members is Chuck Collins, the great-grandson and an heir to the meat mogul, Oscar Mayer. Collins has been involved on issues of wealth inequality for years as a scholar at the Institute for Policy Studies — a progressive think tank in Washington, D.C. that researches wealth inequality and other economic justice issues.
Collins was also involved in founding another group: United for a Fair Economy and Responsible Wealth in Boston, Massachusetts. He has also worked closely with other wealthy individuals to promote higher taxes for the rich, including George Soros and William H. Gates, Sr.
Collins and his group are reaching out to other wealthy people who also want to pay their taxes. They view taxes, as "the price to live in a civilized society" and they are eager to see the government spend it in social programs that benefit the common good in America.
Another member of WFCG, Arul Menezes, a wealthy man who made his fortune as a computer engineer at Microsoft did an op-ed last week telling people why he wants to pay his share:
The Bush-era tax cuts gave $700 billion in breaks over eight years to those of us with annual incomes more than $200,000. The United States borrowed money to make these tax cuts possible, even as our schools, infrastructure, research institutions and social services were in need of new investments.

This is extremely shortsighted. Our investment as citizens in our collective "commons" lays the foundation for our individual wealth and success. That's why I've joined hundreds of other high-income taxpayers in calling for a reversal of these tax cuts. This would generate roughly $43 billion in annual federal revenue, which could be used to make investments in public education, health care and revamping our nation's energy system.

Taxes are the price we pay to live in a civilized and healthy society. Those of us who have disproportionately benefited from public investments have a responsibility to pay back our society so that others can have similar opportunities.
The Petition To Obama
The group wants to gather more signatures for a petition to the Obama administration asking him to reverse the tax cuts and to use their tax money to fund programs that the country needs now, like healthcare. The group has already gotten more than 1,000 signatures and the list of signers continues to grow.
What does the petition say?
I Will Pay Higher Taxes to Invest in My Country
We, the undersigned, call on Congress and President Obama to immediately reverse the Bush-era tax cuts for those of us with taxable incomes over $235,000. The increased revenue, an estimated $43 billion, should go toward making long overdue investments in education, health, transportation, infrastructure, and green energy systems.
Sounds good to me.
For the PDF of the full list of signers, click here.