Clinton: Rape In Congo Must Stop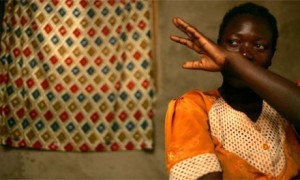 Secretary of State Hillary Clinton has called for accountability from Congolese President, Joseph Kabila, to prosecute rapists in that country. Women and children have been victims of rape by military soldiers since 1996.
During her visit to the African country this week, Clinton — who has been advocating for women's rights throughout her trip — grieved over the suffering of women in that region.
Speaking from Kinshasa, Clinton said:
"We have seen in the late 20th century and now in this century a terrible trend of using sexual and gender-based violence as a tool of war to intimidate and demoralize populations and to force them to flee their homes.

And I think this is going to take a concerted effort from the Congolese Government as well as other governments in the region who have interests in the DRC. It's going to take NGOs and civil society. It has to start with making sure that the military of the DRC does not engage in any sexual and gender-based violence, and there has to be no impunity for anyone who does, and there has to be an effort to cut off the funding for the militias and resolve the underlying political tensions in the east.

But sexual violence is a problem across the country, as it is in many countries, and there have to be stronger laws against domestic violence, against criminal rape that happens on the street of Kinshasa or any other city. There has to be strong prosecution and law enforcement and judiciary actions to make it clear that this is unacceptable, that there is no excuse for it. And that's what I hope we will see."
According to the New York Times, "Secretary of State Hillary Rodham Clinton unveiled a $17 million comprehensive plan to fight sexual violence in eastern Congo on Tuesday, a problem she said was "'evil in its basest form.'"
Several agencies have done work in Congo over the years to address the violence in that country. Oxfam has just released a report, showing that rape victims have been as young as 4 years old.
Over 4,000 women and children have been raped so far this year, according to humanitarian organizations. Hollywood celebrities have tried to bring attention to the situation, including Angelina Jolie and Mia Farrow.
Groups working in Congo to advocate for the sexual violence there include, ENOUGH Project and RAISE Hope In Congo.