Rush Limbaugh Exaggerates, Upset Over NASA's "Bombing Of The Moon"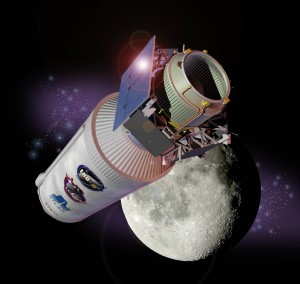 Either jokingly or seriously, conservative talk radio host Rush Limbaugh warned that if NASA bombs the moon tomorrow it may set us up for "a retaliatory attack" from intelligent beings in the universe.
Here was his quote:
If there are smarter people than us out there — and, of course, goes without saying they would have to be — and they have brought peace throughout the universe except for earth and we're bombing the moon, this could set up a retaliatory attack! You know, wait 'til the meteorites organize when they hear about this, folks.
NASA is in fact sending a Centaur rocket to our moon tomorrow for a mission into looking for water and ice on the moon's surface. Rush, however, effectively exaggerated NASA's mission.
"We are going to bomb the moon. NASA, Friday, tomorrow, we're going to bomb the moon, no preconditions, no negotiations!" said Limbaugh on his show after taking a call from a listener who asked why the moon was being bombed on Friday. "What did the moon do to us? Is somebody up there on the moon doing things that only Obama knows about? We're going to bomb the moon."
NASA's mission has been no secret. The explosion is meant to loosen up debris from one of the moon's craters so that scientists can assess how much water and ice is there. According to NASA, finding water on the moon could save millions of dollars since transporting water from Earth to space is very costly. The water and ice also holds a lot of hydrogen, which could be used as fuel.
Here is a snippet from NASA on the mission of the Lunar Crater Observation and Sensing Satellite (LCROSS):
By going to the moon for extended periods of time, a new generation of explorers will learn how to work safely in a harsh environment. A lunar outpost is a stepping stone to future exploration of other bodies in our solar system. The moon also offers many clues about when the planets were formed.
Rush exaggerated the mission by even implying that NASA would be bombing the moon to test run a new bomb that the Department of Defense is acquiring: the Massive Ordnance Penetrator (MOP). In a statement on Thursday, the Department of Defense announced that the military was getting a new bunker-busting bomb which would be able to destroy targets beneath the surface — something that bombs have not been able to do before.
This is a snippet from the DoD's statement quoting the Pentagon's spokesperson, Bryan Whitman:
At a hefty 30,000 pounds, the new penetrator bomb weighs almost 4 tons more than the U.S. military's former heavyweight champion, the nearly 22,000-pound massive ordnance air blast conventional bomb, known by the acronym MOAB.

The massive penetrator bomb will be in a class by itself and represents a unique capability, Whitman said.

"We don't have any other 30,000-pound bombs," he said.
But the bomb that the DoD is acquiring is not the type of bomb NASA is using for their experiment on Friday. Note that for Rush to even suggest that NASA was going to use a bunker-busting bomb on the moon is irresponsible. What NASA is using it's a Centaur stage rocket, which is used to launch ships into space and has been used for that purpose since the early 60's.