White House Wages War on 'Non' News Outlet: Will It Get Out-Foxed?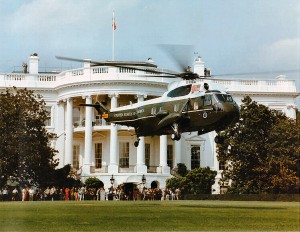 This just in: Fox News isn't fair and balanced. But unless the rock you've been living under for the last thirteen years doesn't get cable, you already knew that. And guess what? Neither is MSNBC. One cable outlet swings right; the other left.
All much a do about nothing until the White House–so infuriated with some of Fox's fright wing firebrands–essentially declared war on the whole network. Not a smart move. I mean, doesn't the administration have enough on its national plate with two wars, a still stuttering economy, pending health reform, unemployment, global warming, etc?
Guess not. For some reason, they think this is a cause worth fighting. After White House Communications Director Anita Dunn set off the opening salvo last week on CNN, describing Fox News as, "operating like the communications arm of the Republican party," media pundits were left scratching our heads. And Roger Ailes and the brass at Fox News were surely spinning cartwheels around yet another pot of new found ratings' gold.
Strange timing for this, I thought. And I had a feeling it might backfire. CNN analyst David Gergen, who held Dunn's job during the Reagan administration and also worked in both the Ford and Clinton White Houses, agrees. "I think it was a mistake, " he said on CNN. "This only elevates Fox to the White House's level. And the White House is always above the media….and they can't win this. They ( the White House) have to move on; they have other things to do, but Fox will just keep it going."
Fox is going at the White House alright. Glenn Beck continues to play out his paranoid comic opera, though lately he's traded in Hitler for Mao. O'Reilly and Hannity are all fired up. Heck, even Greta Van Susteren who usually stays above the fray with an ebullient blend of crime stories and brown-nosing interviews with everyone from Newt Gingrich to the Palins, has gotten her ire up.
I'm certainly not a Fox News fan, but I do support the First Amendment and appreciate a free flowing exchange of opinions. And if the White House assails Fox News as " not a news organization," don' they have to say they same thing about MSNBC? After all, it's true that Bill O, Sean Hannity and Beck have been gunning for Obama since the election. They played the Rev. Wright speeches over. And over. And talked non-stop Bill Ayers for weeks. Recently, they made the Acorn scandal seem like Watergate and they manipulated and misreported those infamous 9/12 tea party protest rallies.
But you also have to admit that Keith Olbermann, Rachel Maddow and Chris ( "'I feel chills up my legs" ) Mathews have been in Obama's bag from the beginning. Just because we may agree with them, doesn't make them objective. And that's okay, they don't have to be; they're commentators. And, like their aforementioned Fox News counterparts, are allowed to express their opinions. And, by the way, they skewer Fox on a regular basis and do a fine, often funny (and–in Olbermann's case, occasionally shrill) job of it.
ABC's Jay Tapper pressed Press Secretary Robert Gibbs Tuesday, "I'm not talking about their opinion programming or issues you have with certain reports. I'm talking about saying thousands of individuals who work for a media organization do not work for a 'NEWS' organization. Is that appropriate?
Gibbs retort? "That's our opinion." He then suggested Tapper and others tune in to Fox News at 5PM or 9PM–alluding to both the Beck and Hannity shows–to see what they're getting at.
I know exactly what they're getting at. When I and other liberal commentators railed against Bush's Iraq war on the radio people called us "unpatriotic" and " un-American." But the criticism didn't come from the White House. At least not directly. I'm sure they were pulling the strings, but they let their surrogates–usually on FOX News– go out and make their absurd case for them.
And that's what this administration should do. Let the liberal blogosphere and cable talkers do your bidding. Stop fretting over Fox's ratings–which by the way are generally higher than both MSNBC and CNN, sadly often combined–but still remain far lower than those of all three broadcast network newscasts. The cable audience at the three networks hovers between 4 and 5 million viewers, a relatively small sampling of the American audience.
There are rumblings that the Obama administration offensive is a preemptive strike against Fox's fury in the upcoming 2010 mid-term elections. Yeah, mid-terms are often lackluster years, yielding little interest and low voter turn-out. The fear here, of course, is that FOX will fire up its viewers ( as it did at the August town halls and 9/12 tea parties), allowing the conservative vote to come out in disproportionate numbers.
Well, if the liberals are too lazy to get out our voters,  shame on us. We'll have to face the consequences of our inertia. Maybe Obama's people should worry about firing up their own base.
Stop worrying about Fox's swagger and sway and concern yourselves with the magic number needed to get true health reform passed. Or else you'll have a lot more than Fox News to worry about.
4 comments on "
White House Wages War on 'Non' News Outlet: Will It Get Out-Foxed?

"