Senior Officials Predict Troops Will Be In Afghanistan For Decades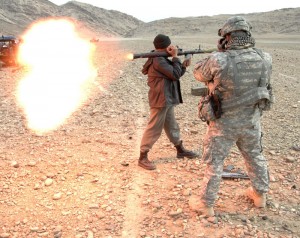 One day after President Obama laid out his plan to expand the war in Afghanistan, members of his Cabinet were dispatched to Capitol Hill to sell the war to lawmakers. Congress was assured that the proposed time-line to begin a troop withdraw – July of 2011 – will be not be a quick retreat and an American presence could remain for years to come.
Secretary of State Hillary Clinton told the Senate Armed Services Committee that US troops and economic assistance programs have been stationed overseas for 50 to 60 years. Clinton said she thinks "that's a likely outcome in both Afghanistan and Pakistan"
Though, Defense Secretary Robert Gates assured lawmakers that nation building is not a goal of the escalated war. He said the US will not "occupy" Afghanistan. He said the time-line to withdraw troops in 18 months is to let the Afghan government know the troop escalation is "not an open-ended commitment."
As members of Obama's cabinet appeared once again before Congress to sell a war in need of more money, people, and resources, Democrats expressed skepticism.
Immediately after President Obama's speech Tuesday night to announce an additional 30,000 troops, progressive members of Congress released statements of opposition. Meanwhile, moderate Democrats released cautious statements, skeptical about the cost, which is expected to be at least an additional $30 billion per year. They were also skeptical about the difficulty of the task amidst corruption, a strong drug trade and a weak government.
Meanwhile, Republicans applauded the Presidents' decision to send more troops, they criticized his proposal
Senator John McCain, Ranking Republican on the Armed Services Committee, insists that the decision to withdraw troops must be made by conditions on the ground. "Right now the expectation is that we will be withdrawing as of July of 2011 regardless of conditions on the ground. That's the wrong impression to give."
Mike Mullen, Chair of the Joint Chiefs of Staff said that is the date the US will start "transitioning." "That date is not a date we are leaving," Mullen said.
The decision will be based on a review to take place in December of 2010. Secretary Gates said "we should know by then if the strategy is working."
In response to Republican concerns, Secretary Gates noted that the troop surge in Iraq lasted 14 months, which is 4 months shorter than the proposed timeframe for Afghanistan.
The cabinet officials made clear that the Taliban is a top priority in this expanded war. That notion was repeated through out the hearing event though intelligence has found the Taliban does not pose any threat to the US. But the administration said a destabilized Afghanistan in Taliban control would allow Al Qaeda to rebuild.
"This area that we are talking about is the epicenter of global extremist jihad," Gates said.
The war strategy plans to move troops in quickly, fight in specific areas, especially the Eastern border and the southern part of the country. Other important elements include training the Afghan army, police force and local guard units.
Secretary Clinton said American civilians will be teamed up with US troops in Afghanistan. She said this is a "new strategy." Clinton said there will be a "significant" civilian surge in Pakistan.
Listen to an audio version of this story at FSRN.org