Still Imagining Peace: John Lennon's Legacy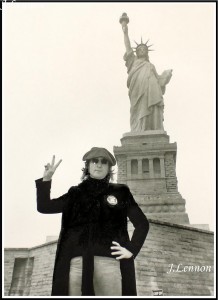 We heard the news twenty-nine years ago today. And for those too young to remember the assassination of J.F.K. the night of 12/8/80, when John Lennon was gunned down and murdered outside his home at the Dakota in New York City was our collective loss of innocence. For kids born in the '60′s and '70′s that brutal death of a cultural icon was our jolt into an unforgiving decade. A friend broke the news, and we spent the night riveted to both TV and, mostly radio. This was back in the in the days before 24/7 Cable TV news and we turned to the DJs for both context and comfort, Already intrigued by Marconi's Box, this episode further lured me into what would become a rewarding if tumultuous career in radio.
Coming of age in the era of Ronald Reagan, AIDS and Gordon Gekko's "Greed is good" rally cry, our generation may have been more cynical than the Boomers before us, but we still had the music to sew generation to generation. And the Beatles have always been a vibrant common thread in that cultural mosaic. The recent success of both the band's digitally remastered collection and Beatles: the Band video game is evidence of their amazing influence and staying power.
Dubbed "the smart Beatle" John Lennon's musical and literary sophistication are apparent in a wide spectrum of the group's songs including "Norwegian Wood;" "Strawberry Fields;" and "The Ballad of John & Yoko." His solo career–astonishingly substantial considering his self described "house husband" hiatus in the mid-seventies and tragic death at forty–show poetic flourish ( the iconic "Imagine") and homage to his early rock roots ( "Whatever Gets you Through the Night").
Lennon's bold persona and wry humor made him something of an acquired taste at first. His infamous 1965 comment about the Beatles being " bigger than Jesus" was misconstrued and led to a brief U.S. radio ban. Lennon never claimed the Beatles were greater than Jesus. he was making a satirical observation about the outrageous hoopla that fueled Beatlemania. But soundbites are unkind to wit and nuance. Other artists like Sinead O'Conner, Cat Stevens ( Yusuf Islam) and the Dixie Chicks would share similar backlashes, all with varying rebounds.
The Beatles' popularity, of course, persisted, despite Lennon's growing, outspoken political proclivities. Some were offended, others amused and enlightened by John and Yoko's Bed-in for Peace. Part early 70′s publicity stunt, part traveling demonstration, the events staged to end the War in Vietnam, irritated the so-called establishment,so much so, Lennon made Richard Nixon's notorious enemies list. Nixon and his FBI henchman, J. Edgar Hoover, were so threatened by Lennon's charisma and his sway with the already divisive youth culture, they waged a campaign to oust the icon from the country, using an old pot bust in the U.K. as their ammo. You'll find a compelling account of the case and era in the documentary film, The U.S. vs. John Lennon, available now on DVD.
The deportation plot was squashed thanks to public outrage and with a little help from John's friends in the arts and politics. Graham Nash and Neil Sedaka both wrote songs about Lennon's plight. Ultimately, Lennon was allowed to remain in the city with which he shared such mutual love. Given his sense of irony, John probably would have shrugged and sang a few lines of "Instant Karma" had he been privy to his tragic fate on that peaceful New York City Street he called home.
John Lennon was a complicated man. A poet with a showman's touch; an idealist with a pragmatic knack (pairing the Lennon/Ono classic, "War is Over" with 'Happy Christmas" was genius; the medley has become a multi-generational anthem and it gets radio airplay every year on thousands of stations worldwide). He had suffered tragedy at a young age, having lost his mother to car accident when he was seventeen; as a father he had a tricky relationship with his older son, Julian ( who has said at the time of John's death, the two were healing their strains).He was famous for his devotion to Yoko, but left her briefly for another woman. He returned in time to rekindle both their passionate romance and his career, releasing the comeback album, Double Fantasy just weeks before his death.
Every year around his birthday in October and now on the anniversary of his death, people speculate on all the work John Lennon may have amassed in all those stolen years. Yoko has said John would have been fascinated with the Internet, and most certainly would have made interesting use of the new medium. Julian–himself recently emerging from a nearly two decade self-exile from music–said his father would have continued to make music. And maybe he would continue to pursue his artistic and literary passions. His sketches and paintings have fetched high price tags at auctions, and he shows a raw, literary flare in his book, Skywriting by Word of Mouth.
Lennon's legacy for peace, captured in beautiful and profound simplicity: "War is over. If we want it," is as relevant today as it was all those years ago. It's still hard to believe anyone was ever threatened by such a powerful and loving message. Events like Band Aid and Farm Aid and artists from Bono to Springtsteen, R.E.M. to the Indigo Girls, Mellencamp to the Dixie Chicks all owe a debt to Lennon's audacity, conscience and spirit.
From his exquisite discography to his indelible influence on music and society, John Lennon will forever shine on. Like the moon and the stars and the sun.