Vic Chesnutt's Last Song: Folk-Rocker Dead at 45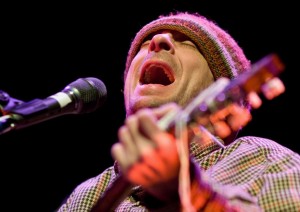 "I've flirted with death all my life," Vic Chesnutt told NPR's Terry Gross earlier this month.
The acclaimed singer-songwriter died on Christmas, after lingering in a coma for a few days following an overdose of muscle relaxants. He was 45.
Fans became alarmed and the blogosphere was all a twitter on December 24 when Chesnutt's friend songwriter Kristin Hersch tweeted, "No one knows much; attempted suicide; looks bad." From there conflicting rumors swirled about Chesnutt's condition. On Christmas, his label Constellation Records confirmed his death.
Chesnutt, a staple in the rich Athens, Georgia music community, was discovered in the late '80′s by Michael Stipe. The R.E.M. singer produced Chesnutt's first two albums, Little and West of Rome.
A car accident at 18 left Chesnutt in a wheelchair; yet he had often credited the incident with focusing him on his craft. "It wasn't until after I broke my neck and maybe like even a year later that I really started realizing I had something to say, " he said.
Despite battling myriad health issues, including very public bouts of depression and substance abuse, Chesnutt was a prolific artist who released thirteen albums over his nearly two decade career. The latest offerings, At the Cut and Skitter and Take off, were released just last September. His recent song, "Flirted with it All my Life," is a sort-of break up song with suicide. He said, "this song is me finally being 'Screw you, death."
It was that unabashedly authentic voice that resonated with so many people. Chesnutt's voice was one that could adroitly alternate between raspy riffing and sweet, fragile crooning as he tackled everything from social and political ills to his deepest, darkest despair with raw honesty. His impressive catalog of songs: at turns darkly comic and eerily dreamy and even sweetly hopeful earned him a loyal following.
Chesnutt seemed to grapple with all the adoration. In a 1998 Rolling Stone interview he said, "I don't know what to say to them. I think I do my best communicating alone in my room when I'm writing songs. But I do appreciate them very much. If it wasn't for them, I would've killed myself a long time ago."
Sweet Relief II: the Gravity of the Situation, the 1996 compilation of Chesnutt's songs by Madonna, the Indigo Girls, Garbage, Cowboy Junkies, Smashing Pumpkins and others, garnered the singer-songwriter national attention. The proceeds benefited Sweet Relief, a non-profit that helps cover musicians' health care costs.
The tragic irony, of course, is Chesnutt's own crushing medical debt. He told the web-zine Spinner last year, "I am in huge trouble in that a hospital is suing me for $35,000 for payment which is terrifying. And the rub is, I have health insurance." There were operations he needed that he had to delay or forgo. His debt, according to reports in the Los Angeles Times had grown to over $70,000 this year.
While he was quite outspoken about his plight and that of America's broken health care system, Chesnutt will be remembered for much more than as a poster boy for health reform.
"We have lost one of our great ones," Michael Stipe said in a statement on the Constellation Records web site. " His songs, his story remain."
"Before he made an album he said he was a bum. Now he's in flight bumming round beyond the little room. With his angel voice," Patti Smith said on the web site.
"I thought I had a calling. Anyway I just kept dialing," Vic Chesnutt wrote. He gave all he had for as long as he could.
Rest now, Vic. We're still listening.
3 comments on "
Vic Chesnutt's Last Song: Folk-Rocker Dead at 45

"