Immigration Reform Could Be The Answer To The Question: Can You Govern?
By Douglas Rivlin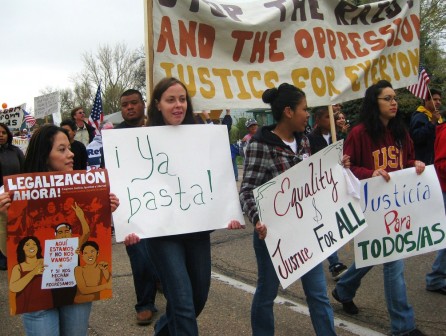 The fight for comprehensive immigration reform embodies what is ailing American politics. This is an issue where both parties have had a hand in its success and in its failure.  President Reagan couldn't pass reform without Democrats and President Obama cannot without Republicans.  To borrow a line from Blanche DuBois, immigration reform has always depended on the kindness of strangers…working together across party lines.  In 2006, John McCain worked with Ted Kennedy to craft a reform bill that passed the Senate with 62 votes when the Republicans were the majority in the Senate.  Trent Lott and Barrack Obama did not vote together on many bills, but they did on immigration reform in 2007 when a different bill failed to get to the magic number of 60 votes in the Senate to cut off a filibuster and proceed to a final vote.
Both parties were responsible for the success of the 2006 legislation and both parties share some of the blame for the failure to move forward in 2007.  The reality is that as our politics become more polarized, the chances of moving forward on a bipartisan issue like immigration reform decreases, as does the ability to govern effectively, no matter which party is in charge.  For years, Democrats have argued that if there were just more Democrats in office, immigration reform would be easier.  Now we have more Democrats and still no reform.
The current political environment, and this issue in particular, presents a very basic question for Washington: Can you govern?  Can lawmakers accomplish anything on the big issues of the day?  These questions are all the more pressing given the sour mood of the electorate and an election only a few months away.  Voters say they want lawmakers to work together to solve problems.  Republicans say they want to work with Democrats to solve problems.  The Democrats, and especially the President, have staked a lot on the notion of bipartisan cooperation to solve tough problems.
So here's the test: immigration reform.
With the Democrats in charge, their party stands to receive most of the blame if there is no action and most of the credit if there is.  I argued last week in this space that Democrats should lean into the immigration issue and push hard this year for an immigration bill.  It would help recharge the enthusiasm of Latino and immigrant voters who are not solidly Democratic but not yet definitively pushed away by Republican hostility to immigrants and immigration reform.  Fighting forcefully on the issue would help strengthen coalitions on the left among labor, civil rights, youth, faith, progressive, and business constituencies.  With the ascendancy of the teabaggers, and their associates, the immigration hardliners and absolutists, coalitions on the right are weakened as Republican Party orthodoxy embraces a "no legal status for anyone here illegally… period" inflexibility.
For Republicans, blocking immigration reform satisfies that portion of their base, but is out of step with the country and alienates the fastest growing segments of the electorate – Latino and immigrant voters. To be sure, there are a lot of Republicans that want to save their party before the anti-immigrant wing does any more damage.  They want the issue resolved and to get it off the table.  The wider the door is opened to the likes of Tom Tancredo and JD Hayworth (who is running against McCain and is as anti-immigrant and pro-deportation as they come), the smaller the GOP will be in the long-run.
Over in the House, Speaker Nancy Pelosi told La Opinion newspaper, the most influential Spanish-language publication in America, that she thinks she has the votes to pass immigration reform (Congress.org report in English). Rep. Luis Gutierrez of Illinois has introduced a bill to get the discussion rolling and stakeout the principles for reform.
Most people think the first real action has to come from the Senate which has lagged behind the House on almost every issue. Chuck Schumer is working with Lindsey Graham to craft a right-left bill that puts together the coalition needed for immigration reform to move forward: a majority of Democrats joined by some Republicans.  But what are the chances?  where do the votes come from to get to the magic number of 60?  A look at 2007 and 2006 shows where.
The 2007 and 2006 Senate Immigration Bills
An analysis of how the Senate voted on the 2007 and 2006 immigration bills, indicates that under the right conditions, a filibuster-proof majority is still within reach.
In 2006, 62 Senators voted on final passage for a pretty decent bill, largely based on the original McCain-Kennedy template.  It received 24 Republican votes. Eventually, it died because House Republicans, who had passed a deportation and criminalization bill in late 2005, refused to even negotiate with their Senate counterparts to iron out a final bill for the President to sign.
In 2007, Bush was weaker, McCain was running for the GOP presidential nomination, and the substance of the bill deteriorated significantly as Ted Kennedy was now working primarily with Homeland Security Secretary Michael Chertoff and Senator Jon Kyl.  Only 12 Republicans voted for it – half as many as in 2006 – and it failed to avert a filibuster on a 46-53 vote to cut off debate (or invoke "cloture," in Senate terminology). In reality, more Senators supported cloture but pulled back and switched their votes when it was clear it would not get to 60.
Of the 62 votes for immigration reform in 2006, 44 are still in the Senate. The 2007 cloture vote provides an additional point of reference, but the 2006 bill is a better barometer because it is closer to what Senators Schumer and Graham are likely to produce.
On the Democratic side there are 29 Democrats that are pretty solid because they voted for immigration reform each time they had a chance in 2006 and 2007.  This includes Arlen Spector (PA), who is now a Democrat and Joe Lieberman (CT), who is now an Independent.   It also includes four Democrats who were not in the Senate in 2006 but voted for cloture on the bill in 2007: Benjamin Cardin (MD), Robert Casey (PA), Amy Klobachar (MN), and Sheldon Whitehouse (RI). These 29 are the core votes in the YEA column on which to build.
There are another 13 potential Democratic votes for reform, but they are less solid because they voted against cloture in 2007.  There were a number of very good reasons to be against the bill.  Senator Kennedy, among others, did not love the bill as it stood on the day it was killed.  Yet he still wanted it to pass the Senate so that it could be debated – and perhaps improved – in the House (and he was pretty confident he could kill a bad bill if things ran completely off the rails).
But even among these 13 Democrats who voted against cloture in 2007, eight voted for reform in 2006: Max Baucus (MT), Evan Bayh (IN), Jeff Bingaman (NM), Kent Conrad (ND), Tom Harkin (IA), Mary Landrieu (LA), Mark Pryor (AR), and Tim Johnson (SD), (although Johnson did not actually cast a vote in 2007, I am putting him in this category to be cautious). The other five were not around in 2006: Sherrod Brown (OH), Claire McCaskill (MO), Bernie Sanders (I-VT), John Tester (MT), and Jim Webb (VA).
Some of these names are familiar as swing Democratic votes in the health care fight, but again, eight are on the record voting for immigration reform. Taken together, these 13 Democrats are key to moving a bill forward or, alternatively, could prove that the Democrats simply can't get anything done.  With the 12 Democratic freshmen who have never voted on immigration reform in the Senate, they should be the primary Democratic targets of pro-reform advocates and especially the President and Democratic Leadership.
So there are 29 pretty solid Democrats, eight more that have voted for reform in the past, five possibles, and 12 that are untested freshmen.  If the Democrats got them all, they would still only have 54.
Robert Byrd (WV), Byron Dorgan (ND), Bill Nelson (NE), and Debbie Stabenow (MI) voted against immigration reform in 2006 and again in 2007 and are not likely to change, although I have a lot of hope for Stabenow.  Joining her, is John Rockefeller (WV), who actually missed the 2006 vote for medical reasons and then voted against cloture in 2007, but he is not known as a fan of immigration.
And that's why Republicans must be a part of immigration reform.
The Republicans
Out of the group of 24 Republicans that voted for reform in 2006, 12 remain in the Senate (although Specter has switched to the Democratic Party).  Six of them (excluding Specter) also voted for cloture on the 2007 bill.
Republicans that voted for immigration reform in 2006 and cloture in 2007:
Robert Bennett (UT), Lindsey Graham (SC), Judd Gregg (NH), Richard Lugar (IN), John McCain (AZ), and Olympia Snowe (ME)
Republicans that voted for immigration reform in 2006 but against cloture in 2007:
Sam Brownback (KS), Susan Collins (ME), Mitch McConnell (KY), Lisa Murkowski (AK), and George Voinovich (OH)
Of these, Graham, Lugar, Voinovich, and the two Maine moderates, Collins and Snowe, are the most likely to support a serious reform effort.
McCain has not been engaged and is not likely to play a visible role.  When pressed on the presidential campaign trail, he said he would not have supported his own bill, presumably referring to McCain-Kennedy in 2006.  However, it is hard to imagine that someone with his experience on this issue would vote against a bill if it came to the floor. Still with a tough challenge from immigration hawk JD Hayworth, it is hard to tell.
Brownback is another former pro-immigrant champion that has stepped back from the issue.  He is retiring, like Judd Gregg, and both seem to instinctively understand the immigration issue and the realistic options on the table.  Orrin Hatch, a former champion and original sponsor of the DREAM Act immigration bill, has turned more hostile to immigration reform and seems to have taken his fellow Utahan Bob Bennett in that direction.  Lisa Murkowski seems unlikely and Mitch McConnell, now the Republican Minority Leader, is a definite no.
And that's pretty much the universe of Republicans.  There has always been a lot of hope for John Cornyn; that his positive rhetoric on immigrants and immigration would turn to positive votes, but it hasn't happened and probably won't. Other Republican votes for comprehensive immigration reform are unlikely, but not impossible.
So, to the 54 or so potential Democratic votes, the possibility exists to draw up to about nine Republican votes.  That cracks the magic Senate threshold of 60, but there is not much margin for error.
Conclusion
Compared to other issues, immigration has been thoroughly debated and votes are on the record for most Senators on both sides of the aisle. The flashpoints are known and stakeholders are working to find common ground.  A broad coalition of labor, faith, progressive, business, youth, civil rights, and immigrant organizations and grassroots networks are fully engaged in the fight.
Schumer and Graham need to move forward with their bill and the President needs to fulfill his promise to fight for reform.  Republicans and Democrats have a lot to gain from action and a lot to lose from inaction.
Is it hard? No question.  But this is what they're paid to do.  And this issue is a bipartisan road they've walked before.  By moving forward on immigration reform, our leaders in Washington might just be able to answer in the affirmative the question on every voter's mind: can you govern?
Editors note- please follow Douglas Rivlin online at Twitter and Digg