Two Major Wins In Washington DC For Gay Rights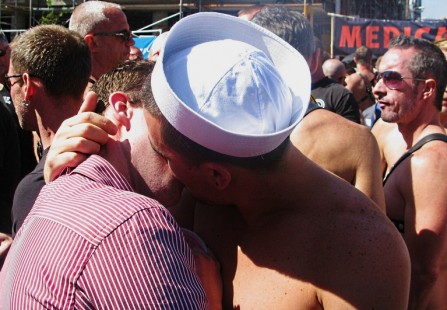 A repeal of 'Don't Ask, Don't Tell' was introduced in the Senate on the same day Washington, D.C. became the latest place for same sex couples to marry.
In Congress, Senator Joe Lieberman (D-Conn.) introduced a bill to repeal the controversial 'Don't Ask, Don't Tell' policy in the US military. President Obama, Defense Secretary Robert Gates and Joint Chiefs of Staff Admiral Mike Mullen have all expressed their support to end the law, which prohibits gays and lesbians from openly serving in the military. It was enacted in 1993 during Bill Clinton's presidency.
The Military Readiness Enhancement Act of 2010  has already been introduced in the House of Representatives and has 189 co-sponsors.
On Tuesday, Defense Secretary Gates released details of a 10-month review of the law that would include input from military members and their families and help determine changes to policies, laws and military training.
Meanwhile, same sex couples lined up at the D.C. courthouse.
John Bogan and his partner, Dan Speck, have been waiting 27 years to tie the knot.
"I never thought we'd see it in our lifetimes," Bogan said.
They can now join the ranks of marriage in D.C., which, legally, offers hospital visitation rights and spousal health benefits and more.
Expecting the surge in marriage applications, the courthouse hired temporary workers to keep up with demand.
Carol and Jodi Benavie moved to the District just for marriage rights. Politically active, Jodi says they made a big sacrifice: taxation without representation.
"We gave up our representation in Congress in order to have rights as a couple," Benavie said.
Neighboring Maryland recently began recognizing marriages from other places.  Same sex couples will be legally married in most of the Washington metro area. If they cross the river to Virginia, those rights fall away.
D.C. has joined the states of Massachusetts, Connecticut, Iowa, Vermont, New Hampshire, and for a brief time, California to offer equal marriage. California no longer administers same sex marriage after a voter referendum overturned it.
This monumental day comes in D. C. after the city council first recognized gay marriage from other jurisdictions. Shortly after, the council went further and voted in favor of extending the right to D.C residents.
Congress is able to overturn any D.C. law, but the Democratic run Congress chose not to intervene. Opponents asked for a stay from the Supreme Court. At the 11th hour, Chief Justice John Roberts denied the request and said the only way to overturn is through a voter referendum.
Not all DC residents are pleased. Catholic Charities has stopped providing benefits to spouses of new employees to avoid providing them to same sex couples.
Follow Leigh Ann Caldwell on Twitter and hear an audio version of this story on FSRN.