Chile Mine Rescue: The Triumph Of The Human Spirit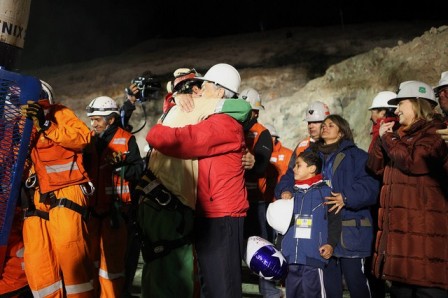 Since last night, across the planet, people have been riveted to their TV screens or computers watching the rescue of the 33 miners who spent  68 days trapped  in a mine 2,000 feet underground. As I am writing this, 31 of the 33 miners have already been rescued, and greeted like heroes by their families, co-workers, and politicians.
Nowadays it is very rare to be able to report on such an uplifting story. Last time Chile was the focus of  major international news coverage was in the aftermath of a devastating earthquake. Chilean authorities had narrowed down their mine  rescue options to three.  The plan adopted to drill the 2,000 feet shaft was originated by an American company from Kansas.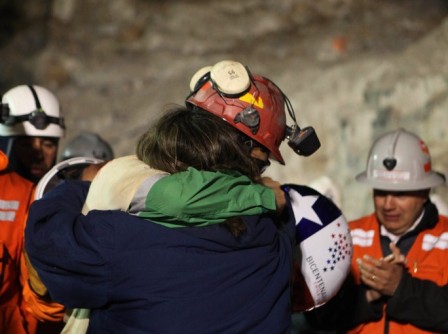 Circumstances such as this rescue should make all of us realize a couple of things as human beings: firstly, that we are a lot more resilient that we assume to face adversities of any kind; secondly, that despite a constant sense of conflict from our different communities, and the illusion of  deep divisions between all of us there is overwhelmingly  more common grounds uniting us than we think.
Even so, this event unfolding in Chile is not of the same significance than the first man walking on the moon, it is none-less of the same essence in feeling a sense of pride, a sense of global community and a rare occasion to celebrate the triumph of the human spirit.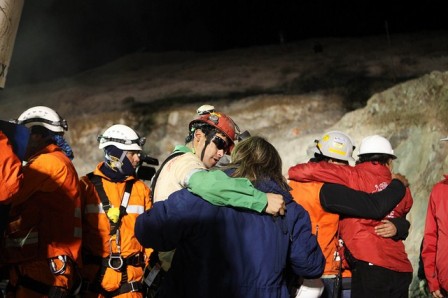 A cliche-saying, which is usually very irritating when said with superficial compassion is: "We are all in this together". One of the last time I heard it, it was coming from the mouth of an Oscar winning movie star, she was referring to the recession. She was obviously making this statement mechanically, because when I said "Well, not really…", she did not want to pursue the conversation any further.
But if the multi-millionaire actress in question was drastically wrong in term of wealth disparity, in an other context her statement would have been accurate. When it comes to the frailty of life, and what could and should be our unquestionable deep solidarity, we are indeed "all in this together". And when we work together and forget the minutia of our  differences for a moment, even the most ordinary people among us can raise to the occasion, and do extraordinary things. So today, we  are  all Chileans, and we should  cheer to the tune of Chi, Chi, Chi,… Le, Le, Le,….Chile!
Editor's Note: All photographs by Hugo Infante / photographer for the Government of Chile.