Analysis: Power Transition In North Korea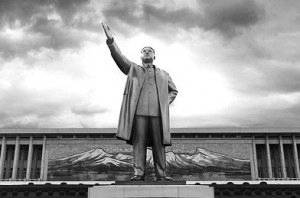 Yesterday, it was announced that North Korea's leader Kim Jong-Il is suffering from a life threatening pancreatic cancer. This was reported by YTN, a South Korean news station. YTN based their report from unidentified sources from both  China and South Korea. YTN said that Kim Jong-Il was diagnosed with the cancer last year. The prognostic for patients with pancreatic cancer is grim, most patients suffering from the disease have a maximum life expectancy of 4 to 5 years. On July 8, the last public appearance of Kim Jong-Il, the North Korean leader looked frail & was walking with a limp.
Certainly the poor health of the North Korean leader raises the important question of power transition in the DNK. Who will ultimately succeed Kim Jong-Il? Will it be Kim Jong-Il's youngest and favorite son Kim Jong-Un or a more collective form of leadership coming from the military & the communist party's politburo?
Kim Jong-Il's failure to appoint a successor could indicate some serious divisions within North Korea's ruling elite. The last succession in North Korea was settled in a clear cut manner & way ahead of time. In 1980, the "Great Leader" Kim Il-Sung picked Kim Jong-Il as his successor and went on to live until 1994.
The elite in North Korea is very small, most observers have mentioned a number of 200 people all together. There are only three power centers within this ruling class: The military, the communist party and of course the Kim family.
Kim Jong-Il has three sons; Kim Jong-Nam, Kim Jong-Chol and Kim Jong-Un. The youngest one, 25 years old Kim Jong-Un, is Kim Jong-Il favorite and is rumored to be his father's choice for successor. Very little is known about Kim Jong-Un except that he was raised in an exclusive school in Switzerland.
Since the 1990's, North Korea's military has seen its influence rise. The military is headed by the National Defense Commission, a group of 10 top ranking officers.
Within the DNK's communist party, the 2nd man in the hierarchy is Chang Song-Taek. The 62 years old could play the leading role in the succession process. Chang Song-Taek is married with Kim Jong-Il's sister. The two men had a falling out in 2003, but have apparently worked out their disagreements since then.
Chang could emerge as the real power broker behind a leadership nominally headed by Kim Jong-Un.