UN Report Confirms Evidence Of War Crimes In Gaza Conflict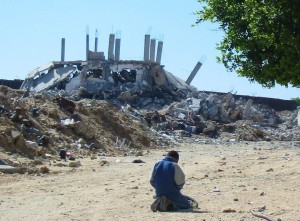 Today the United Nations released the full report from its fact-finding mission on the Gaza conflict, and has found very serious evidence that both Israeli forces and Palestinian militants committed serious war crimes and breaches of humanitarian law, which may amount to crimes against humanity.
Justice Richard Goldstone, the head of the United Nations mission made the following statement at a press conference today:
"We came to the conclusion, on the basis of the facts we found, that there was strong evidence to establish that numerous serious violations of international law, both humanitarian law and human rights law, were committed by Israel during the military operations in Gaza. The mission concluded that actions amounting to war crimes and possibly in some respect, crimes against humanity were committed by the Israel Defense Force (IDF). There is no question that the firing of rockets and mortars, by armed Palestinian groups in Gaza, was deliberate and calculated to cause loss of life and injury to civilians. The mission found that these actions also amount to war crimes, and possible crimes against humanity," said Justice Goldstone.
The 575 page report was released today, ahead of its presentation to the United Nations Human Rights Council meeting in Geneva on the 29TH of September.
"The mission finds that the conduct of the Israeli armed forces constitute grave breaches of the Fourth Geneva Convention in respect of willful killing and willfully causing great suffering to protected person, and as such give rise to criminal responsibility. It also finds that the direct targeting and arbitrary killing of Palestinian civilians is a violation to the right to life," the report summary said.
The report recommends that the UN Security Council should require Israel to take steps to launch appropriate independent investigations, and report back within 6 months. It further calls on the Security Council to appoint a group of experts to monitor the proceeding taken by the Israeli government. If these measures did not take place, the report calls for the UN Security Council to refer the situation in Gaza to the Prosecutor of the International Criminal Court.
To read the complete UN report on Gaza war crimes investigation  click here.