Did Iran & Israel Meet Secretly For Nuclear Talks?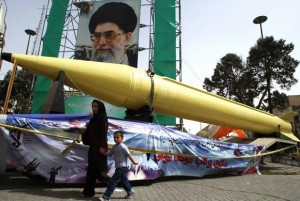 Today, Iran denied that its nuclear officials met with Israeli official last month in Cairo to discuss the possibility of a nuclear-free Middle-East. An official with the Israeli Atomic Energy Commission said that the talks took place, but declined to give details about the meeting.
The Egyptian foreign ministry confirmed that the non-proliferation talks did indeed take place. Israeli newspaper Haaretz broke the story, confirmed by the AFP, that Meirav Zafary-Odiz, director of policy and arms control for Israel Atomic Energy Commission, and Ali Asghar Soltanieh, Iran's ambassador to the International Atomic Energy Agency (IAEA) met several time in Cairo between September 29 and 30. The meeting was held at the Four Seasons Hotel in Cairo under the auspices of the International Commission on Nuclear Non-Proliferation and Disarmament.
Israel is in possession of nuclear arms, according to nuclear experts, who believe that Israel holds up to 200 nuclear warheads as well as a nuclear reactor in Dimona. Israel has never either confirmed or denied the existence of its military nuclear program.
The announcement of the Cairo meeting between Israel and Iran came after the UN nuclear watchdog gave, on Wednesday, Iran and world powers a draft deal that could drastically ease tensions over Iran's nuclear program. The IAEA agreement was brokered in Vienna between Iran, the United States, Russia and France. According to diplomats, the document demands that Iran ship out its stockpile of low enriched uranium for further processing by another country (either Russia or France).
Despite the progress, Israeli officials remain extremely sceptical  about Iran's intentions to honor the agreement.
Meanwhile, Israel and the US have started a massive air defense drill. If the IAEA agreement and the meeting in Cairo were the carrots in the negotiation with Iran, this is the big stick brandished towards Tehran by Israel and the US. The Juniper Cobra 10 exercise began this week, and of course is in the context of the heightened tension between Israel and Iran. Israeli and US commanders refused to describe the scenarios they are simulating, but Israeli media reported that the exercise would likely include a scenario of a combined attack from Iran together with shorter range barrage from Syria and from Hezbollah in Lebanon.
The timing of the Israeli/ US war games is odd in the context of the IAEA negotiation with Tehran. It is a bit like moving one step forward and two steps backward, or giving a carrot to someone while hiding a stick behind your back.