Fort Hood Massacre:A Symptom Of The Madness Of War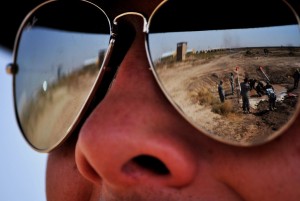 Latest Update at 6:50 PM/ US (PST):
According to the commander of Fort Hood, the suspect in the shooting is alive, wounded, and in stable condition said Army Lieutenant General Robert Cone. Major Hasan is a US citizen of Jordanian descent. He is a psychiatrist who previously worked at the Walter Reed Army medical center. Hasan was never deployed outside the US, but he was scheduled to be deployed in Iraq.
Earlier:
Today, gunmen in military uniforms went on a shooting rampage in Fort Hood Texas. The 12 men killed in the largest US inland military base should be considered casualties of the war in Iraq and Afghanistan. Eleven soldiers plus one of the gunman are dead, and 31 are wounded with 2 in critical condition. The slain gunman was identified as Major Malik Nadal Hasan. Two other soldiers have been detained as suspects for questioning.
The soldiers killed were filling out paper processing to go to Iraq or Afghanistan. According to MSNBC, Major Hasan was due to be redeployed in Iraq. Fort Hood happens to be the base of the Warrior Combat Stress Reset Program, which is designed to help soldiers deal with combat stress issues and post traumatic stress disorder. It is obvious that the Warrior Combat Stress Reset Program failed to work for Major Hasan.
President Obama called the shootings "a tragic an horrific outburst of violence".
"These are men and women who have made the selfless and courageous decision to risk, and at times give, their lives to protect the rest of us on a daily basis. It is difficult enough when we lose these brave Americans in battles overseas, but it is horrifying that they should come under fire at an Army base on American soil," said President Obama in a news conference statement.
President Obama, even so he is the Commander in Chief, has no military experience whatsoever. If it did, he would understand that the stress generated by either killing people or getting shot at is fundamentally unnatural, and can easily trigger psychotic episodes such as the one that Major Hasan likely experienced today.
What is "horrific" Mr.Obama, is that you have maintained this country in a state of endless wars. What is "tragic", Mr Obama, is that you are contemplating sending 40,000 more Americans in Afghanistan, knowing that a lot of them will come back in body bags. What is "tragic & horrific", Mr. Obama, is the fact that your are pursuing the same war mongering policies than the ones of your predecessor. This tragedy today, should be a wake-up call.