A Perspective on Unemployment
Yesterday brought some sobering news that the Great Recession is still far from over.  Unemployment crawled past the 10 percent barrier for the first time since 1983, hitting a rate of 10.2 percent.  Despite this, there are some reasons for optimism in the historical context, and signs that things will soon turn around.
According to the Associated Press: "The Labor Department, using a survey of company payrolls, said the economy shed 190,000 jobs in October. A separate survey of households found 558,000 more people were unemployed last month than in September. Some 15.7 million Americans are out of work."
This rise in joblessness is a continuation of the global financial meltdown of the Great Recession. According to Bloomberg, the economy has shed 7.3 million jobs since the recession began in December 2007, 3.49 million of those since Obama took the oath of office late January 2009. The unemployment rate has climbed from 4.9 percent then (not accounting for those no longer seeking employment and those with only part time work) to 7.8 percent on January 20, 2009 to 10.2 percent today. The unemployment rate is expected to hit 11 percent by mid 2010 before it begins to drop.
Despite this, there are some reasons for optimism.  The Dow Jones industrial average has topped 10,000, worker productivity rose at an annual rate of 9.5 percent, and unemployment claims have declined for the 9th straight month.
"The four-week average of jobless claims, which smooths fluctuations, dropped to 523,750, its ninth straight decline. That's 135,000 below the peak for the recession, reached in early April."
Another article by Bloomberg: "U.S. durable goods orders rose for a second month and new home sales were the second-highest on record in July. Consumers gained confidence in August, a sign they might increase spending and help the economy accelerate."
NPR points out that there are new signs of growth in the economy, ending a year of contraction, but that job growth is a lagging indicator.  Thus, although the recovery has begun in the American economy, the current unemployment rate will not reflect this.
Recent data that have surfaced have shown that the American Recovery and Reinvestment Act (economic stimulus) has saved or created at least 640,000 jobs so far. Due to at least 350,000 additional jobs saved by tax cuts in the ARRA, the real value is likely to top 1 million. This has softened the blow of what would otherwise have been far more staggering jobless statistics.
To put a little historical perspective on this, we must employ some charts. Here is the 10-year trend. The explosion in the jobless rate following the recession hitting is striking.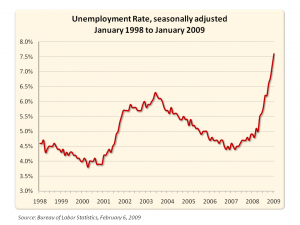 A longer term chart demonstrates many fluctuations in the rate since 1890.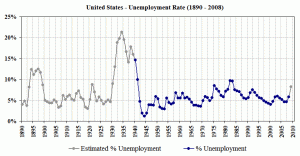 Zoom in on these numbers a little bit, and we see the rates displayed by year (colored to represent which party had the presidency).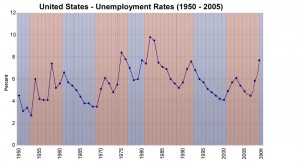 This last chart brings up the final reason not to be too concerned about the current rates. Democratic presidents tend to have a much better track record in terms of job creation.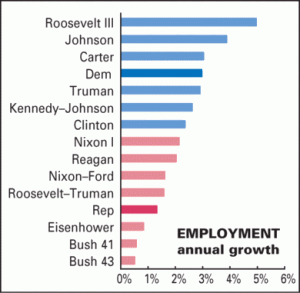 Here we have an annual rate of job gain or loss by presidency.
In the end, Democratic presidents are responsible for 64.2 percent of the jobs created since 1939. Under Bill Clinton, 22 million jobs were created in 8 years.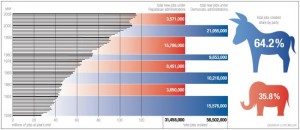 There is a shock of the double-digit barrier being broken at the moment, but this will soon wear off. An unemployment rate of 10.2 percent that might grow into 11 percent is bad news, but by all accounts, this should be a temporary bump in the road to recovery that could take years. At least there is a historical reason to believe that the team behind the wheel are the best ones equipped to turn this situation around.