Gitmo: Symbol Of US Lawlessness And Human Rights Violations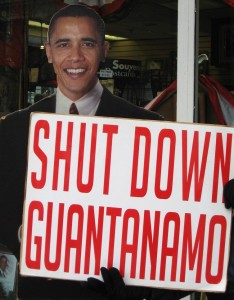 Despite  President Obama's executive order, signed  on January 22 ND 2009, the Guantanamo facility, which has been a thorn in America's record on human rights, will be open for " business" after  the one year deadline. Yet, 9 months ago, the closing of the shameful facility was clearly on the top of the new administration's "to do" list.
"The detention facilities at Guantanamo for individuals covered by this order shall be closed as soon as practical, and no later than 1 year from the date of this order," read Section 3 of President Obama's executive order.
On Wednesday, President Obama acknowledged that his administration would not meet his own deadline for the closure of Guantanamo. In his comments, President Obama would not commit to an exact date on the closure stating that he anticipated it would happen "Sometime later next year, and that it would depend on cooperation from Congress".
Amnesty International and the ACLU are both urging the Obama administration to resolve the future of detainees still held in Guantanamo without further delays.
"Over recent months, US authorities have allowed the Guantanamo detentions to become a political football, and the politics of fear to trump human rights. Now, as should have been the case from day one, the government should resolve these detentions by either bringing the detainees to fair trials or immediately releasing them," said Amnesty International's Susan Lee.
Since President Obama took office, 26 detainees have been transferred out of Guantanamo, leaving 215 still in detention there. One detainee has been transferred to face trial in a Federal court in New-York, and the administration has announced that another 5 will be transferred to the city for such trials. It is likely that the death penalty will be sought against them. Another 5 cases will be trialled by military commission.
In his 22 January order requiring his administration to ensure "prompt and appropriate" resolution of each and every Guantanamo cases and to close Guantanamo within a year, President Obama pointed to the "significant concerns raised by these detentions, both within the United States and internationally".
Those concerns have not gone away, and they were strongly expressed yesterday by ACLU's executive director Anthony Romero.
"It is troubling that the administration will miss its January deadline for closing the Guantanamo prison, which has become the symbol of American lawlessness and human rights violations. Guantanamo will be a stain on our reputation for as long as it remains open, and it should be closed as soon as possible," said ACLU's Anthony Romero.