Oil Spill: Salazar Admits Oil Drilling Lapses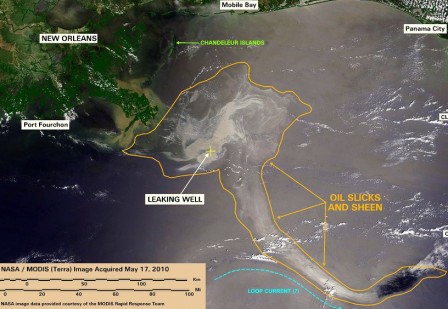 Interior Secretary Ken Salazar said changes must be made to the Minerals Management Service, the agency in charge of regulating offshore oil drilling.
"We need to clean up that house," Salazar told the Senate Energy Committee Tuesday.
Salazar said he plans to "craft a new agency" because of ethical misconduct and regulatory failures. Salazar emphasized this point when he said, "There is additional work that should have been done with respect to blowout prevention mechanisms."  Salazar continued: "This incident never should have happened because of the fail safe kinds of redundancies and procedures that are in place, but it did happen."
BP has claimed that the blowout preventer, which is the last resort to stop an oil leak, was "fail safe." Evidence shows otherwise, including an oil rig worker who told CBS "60 Minutes" that the blowout preventer was broken before the explosion but nothing was done to fix it.
Interior Secretary Salazar said, "Are there additional things that can be done to enhance… safety? The answer to that is absolutely yes, and that will be part of what will be included in a report to the President."
For the first time, Secretary of the Interior Ken Salazar appeared before Congress to discuss the federal governments role in the disaster. Congress is taking a broad look at the BP oil spill. The Senate is holding three hearings on the issue Tuesday, and it held one yesterday.
It has been nearly one month since BP's Deepwater Horizon oil rig 50 miles off the Louisiana coast exploded, killing 11 and leaking a hotly contested amount of oil each day. BP estimated 5,000 barrels gush out each day while some scientists estimate tens of thousands of gallons. The massive oil spill is on target to be the biggest in history. Scientists caution that the oil could get caught in the Loop Current which could carry oil around Florida and up the East Coast. The National Oceanic and Atmospheric Administration expanded the fishing ban Tuesday and threats of environmental damage persist. The Louisiana Environmental Action Network says the EPA's test results of air quality along the coast show diminishing returns.
BP is working to divert the flow of oil from a tube to a drill ship. They are simultaneously trying to "kill a well" to stop the flow of oil from the well with mud and other material.  The end-game strategy is a complete sealing of the well. Salazar says that likely will not be possible until August.
Salazar assured the Senate that BP would reimburse the government for all expenses incurred for oil clean up.
Salazar said one thing he'd like Congress to change is a strict 30 day time line that regulators must abide by when approving oil and gas exploration plans. Salazar said the administration wants it changed to 90 days. He also said more decisions to overhaul MMS will be made in coming days.
Hear and audio version of this story on FSRN.