US Justice: Sticks For Blacks And Latinos, Carrots For Cops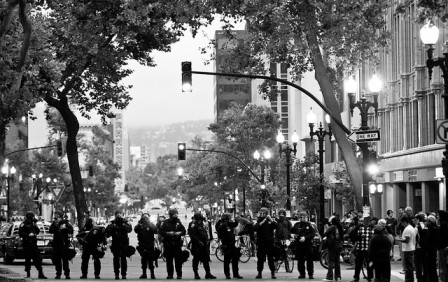 On Friday, former police officer, Johannes Mehserle, who killed unarmed passenger Oscar Grant on New Years day 2009 was sentenced by Judge Perry in Los Angeles. The police brutality occurred in Oakland, but the trial was moved to Los Angeles to avoid a repeat of the protests following the killing of Oscar Grant. Judge Perry sentenced Mehserle to just two years, ruling it was "involuntary manslaughter". The LA judge is also taking off 146 days for time served, and another 146 days for "good behavior". That is almost one year taking off the already minimal sentencing of two years. Without the leniency of judge Perry, Mehserle could have faced 14 years in jail.
After the questionable verdict, protest broke up in Oakland, and other protest were scheduled today in LA and nationwide. Last night in Oakland, police made more than 150 arrests after some protesters started confronting the cops, and broke some private and public properties. In Los Angeles, outside the courtroom, a relative of Oscar Grant expressed his deep frustration over the lenient verdict.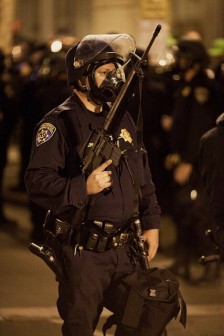 "I do believe it is a racist justice system," said Bobby Johnson, the uncle of Oscar Grant.
John Burris, the attorney for the Johnson family was outraged by Judge Perry's ruling as well.
"What you take from this is that Oscar Grant's life was not worth very much," said Burris.
The case of the shooting of Oscar Grant is not isolated at all, and police brutality has been apart of African-Americans and Latinos daily life for a very long time. A documentary filmmaker, and Pacifica radio host, JR Valrey is arguing that we are facing an epidemic of police brutality to the extent that Valrey qualifies it as "police terrorism". In his film, "Operation Small Axe", Valrey focus on the shooting and killing of Oscar Grant and the protests following the tragic incident.
"Police brutality is definitely not 'isolated incidents' as official always say after each new killing or beating by police. When we screened 'Operation Small Axe' in Atlanta, people were still talking about the police murder of 92-year old Kathryn Johnson in 2006," said Valrey.
Recent data released by the National Police Misconduct Statistic and Reporting Project, which started keeping track of police brutality since 2009, 2,541 cases of police misconduct nationwide took place between January and June 2010. Further, police misconduct caused 124 deaths in the first six months of 2010 with 60 percent of the killings resulting from police gunfire. Additionally, during the same six months period, police brutality's price tag for the taxpayer was around $150 million in police misconduct settlements or judgements paid out.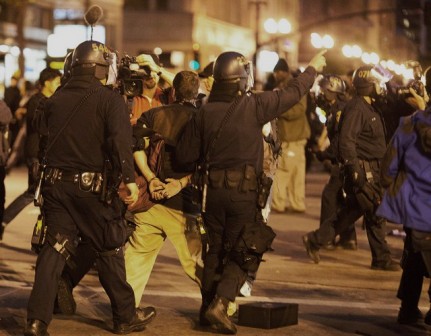 Valrey argues that police brutality unifies Blacks and Latinos across the country, and the activist journalist calls brutality committed by law enforcements officers "police terrorism".
"People in the minority communities know that this police terrorism is happening. Latinos and Blacks usually don't agree on religion or politics, but they agree that police terrorism is an unnecessary evil in our communities," Valrey said. It is as if America's law and order apparatus, at least in the case of Blacks and Latinos, has flipped the "presumption of innocence until proven guilty" by a presumption of guilt until proven innocent.
Note: All photographs by Thomas Hawk. To view some more of his great photo coverage of the Oakland protests click here.