What Kind of Tourism Is Sustainable for Haiti's Ile a Vache? Interview With Melinda Wilson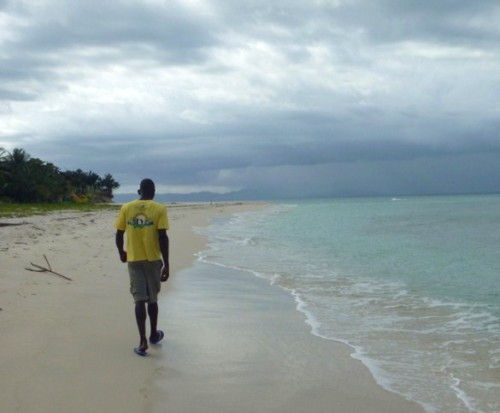 In the wake of natural disasters, or in advance of events such as World Cup or Olympic games, various governments and private concerns have connived to appropriate coastal lands. Ile a Vache is a case in point. For over a century, this 20-square mile island, about seven miles from the southern Haitian city of Cayes, has not received government services as basic as electricity or municipal water. Nevertheless, the residents, mostly small farmers and fishermen now numbering about 20,000, have beautified and reforested Ile a Vache to the degree that it has become recognized as the most pristine island in the Caribbean. This, after one Haitian administration permitted logging of the island by a United States businessman and acquaintance of President Abraham Lincoln, Bernard Kock, who re-enslaved freed African Americans for this labor in 1863.
The Haitian executive branch is back, ostensibly to "develop" Ile a Vache "sustainably" for ecotourism, but in reality to gather all aspects of the island's administration under the central government so as to appropriate its coasts and much besides. The residents, who were last to learn about this project, are resisting it with regular blockage of all construction. They have formed several groups to represent their interests. One of these is the Organization of Ile a Vache farmers (Konbit Peyizan Ilavach, KOPI), whose vice president, Jean Matulnes Lamy, has been imprisoned in Port-au-Prince's infamous National Penitentiary without charge or trial since February 25, 2014.
At News Junkie Post, we looked more closely at Ile a Vache tourism with award-winning Quebec author and speaker, Melinda Wilson. Ms. Wilson is an expert on the biological and ornamental aspects of horticulture and an environmentally conscious traveler who is well acquainted with Ile a Vache.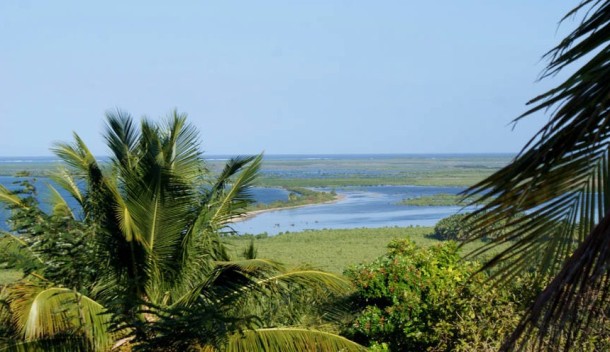 Dady Chery. Thank you for agreeing to this interview with us, Ms. Wilson. Please tell our readers: when exactly did you last visit Ile a Vache? Was this your first time?
Melinda Wilson. I stayed for three weeks on the island in February 2014. I came with two friends, Alain and Serge. For me, it was a third visit: the previous ones being in 2011 and 2013. For Alain, it was his second, and for Serge, his first. There was a change in the atmosphere this year. People were more wary. Tensions were palpable. We dealt with verbal aggression, roadblocks, demands for money. People who mistook us for investors told us to go away, and so on. We had to take the time to talk to them and explain to them that we were against the development project and with them in their struggle. Alain was in Kay Kok when a protest started. He got singled out and heckled by a group of people. Things got very close to taking a wrong turn.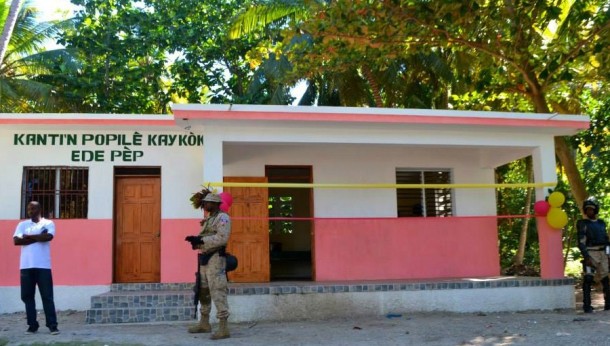 DC. How was the police presence this year compared to previous ones?
MW. I personally never noticed police before on the island. I think there were two officers for the entire county. We witnessed boat patrols around the island and the landing of an armed force called BIM [Motorized Intervention Brigade]. These people were heavily armed with automatic weapons and traveled in jeeps all over the place to get noticed and intimidate the population. There are now over 100 of them. At first they lived in Abaka Bay Resort, but the plans for the island show that a building will be constructed to house them, meaning that their presence would become permanent. These police have requisitioned an area of Kay Kok for something like a nightclub and several small buildings.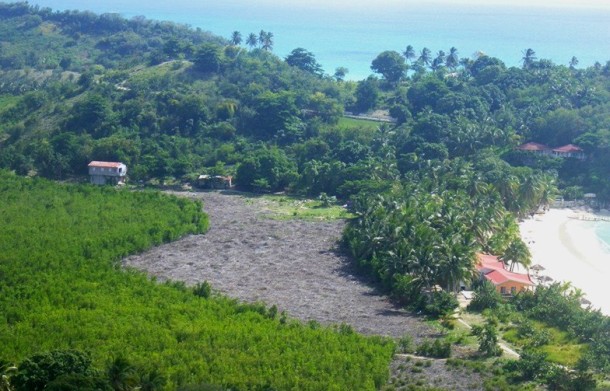 DC. Did you see any of the construction work?
MW. We went to the new airport's site. The work was stopped then, but workers for the Dominican company Estrella were staying in an adjacent camp that had been built to house them pending resumption of the work. The airport is in the Eastern end of the island, on land that was used for farming and grazing. The topsoil has been completely scraped off. Despite this, you can see the outlines of the farms and houses that were destroyed. To build the road from the airport to the Western tip of the island, they encroached, without any compensation, on people's lands. Now some of the homes are right on the edge of the new road, and their fruit trees have been cut or damaged without compensation. This road replaces footpaths that had respected the environment, and it is much too large for the proposed use. We also visited Abaka Bay Resort, which had started to cut the mangrove behind the hotel to expand and build new bungalows. We witnessed the delivery of stones, possibly from the seabed, for the construction of walls for the hotel.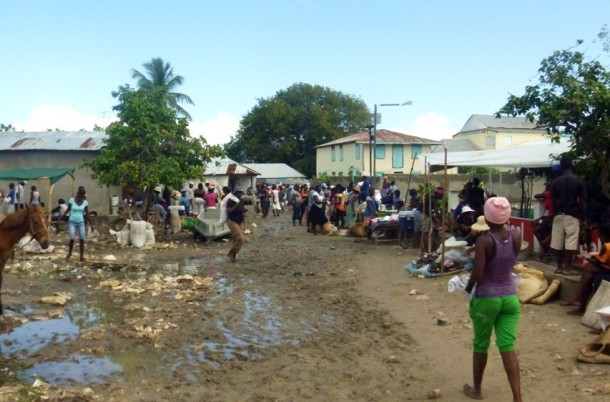 DC. Thursday is market day on Ile a Vache. Did you go to the market during your visit? Has the new facility changed things?
MW. The market in Madame Bernard is every Monday and Thursday. Many merchants come from Aux Cayes, but there are also traders who come from all over the island to sell their small production. I went there every week. The vendors aren't installed in the new market, which is, by the way, very poorly designed, with spots for the vendors that are reminiscent of stalls for livestock.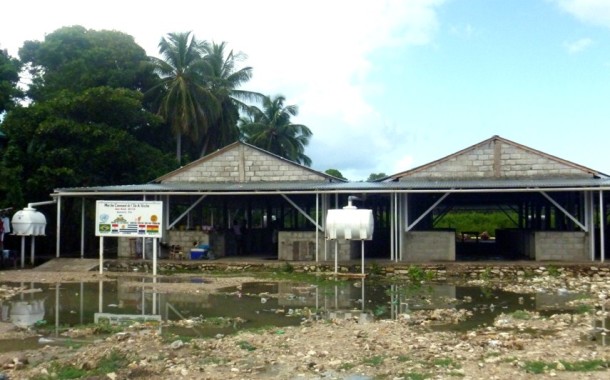 The new building was built by Brazilian MINUSTAH troops. The vendors would rather stay on a dirt floor or even in mud! The roof leaks. After it rains, the water just stays there because of the poor drainage. Also, they want to charge the vendors a fee — a small one, but still too much for some — and assign them a fixed location, which does not sit well with them.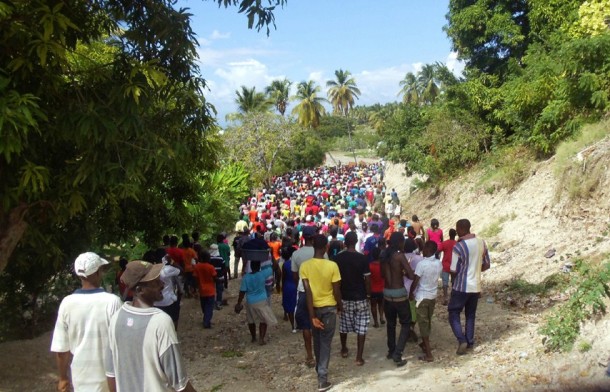 DC. Did you witness any protests?
MW. We saw at least three protests, all of them peaceful, involving several thousand people. The main demand of the population is withdrawal of the decree [to make Ile a Vache a zone of tourism development and public utility]. To this are added the calls for negotiations with the government, and more recently, the demands to release Jean Matulnes Lamy.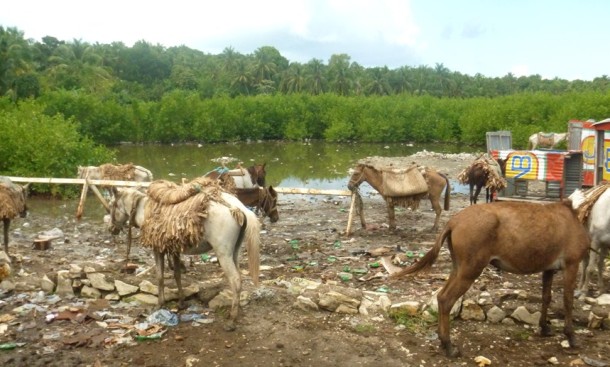 DC. Any police brutality?
MW. We witnessed intimidation, like armed militias driving around the island in groups, and threats, like the owner Abaka Bay Resort saying that all the demonstrators should be arrested for the sake of peace, and people surveying the island and connecting the names of people to their places of residence. We also heard that some people were pushed around and injured during the protests.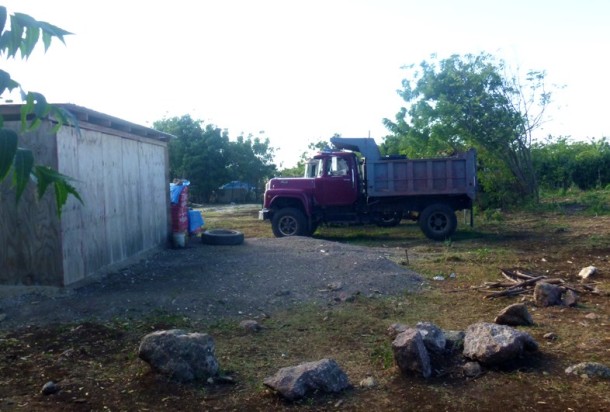 DC. KOPI members Louis Jean Gadi and Jean Matulnes Lamy have noted that the main hotels, Abaka Bay Resort and Port Morgan, employ people from the mainland and not the locals. Would you agree?
MW. There are hotel employees who come from the island. How many, I can't say, but they tend not to hold high-level jobs and are used as laborers, guards, waiters or maintenance employees.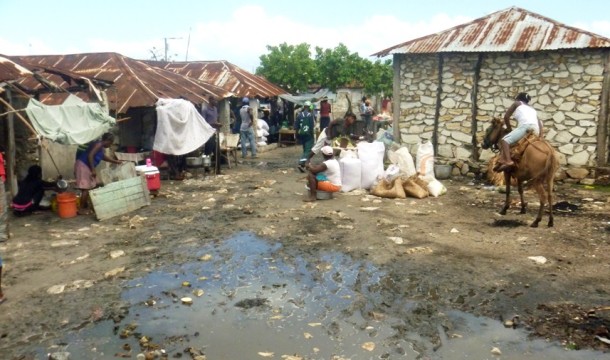 DC. In your view, Ms. Wilson, does the Ile a Vache population benefit from the tourism currently on the island?
MW. During our own visits, we stayed with the locals, and this gave money directly to the people who hosted and fed us. Our expenditures on site included: overnight stays, meals, boat trips and bike guides, purchases from small traders, and various services. For my part, I also did volunteer work at the Saint Francois welcome center, run by Sister Flora, from Québec. I pay for my board when I'm there. We didn't stay in the hotels, first because of ethical considerations and second because of their practices, such as minimum wage and lack of respect for the population. Besides, they charge very high rates that hardly benefit the local population.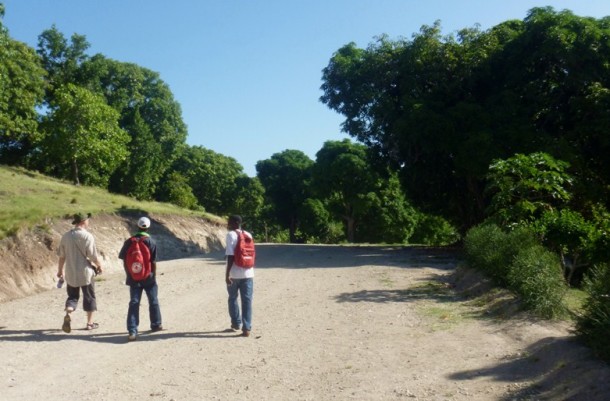 DC. You interviewed Jean Maltunes Lamy shortly before his arrest and imprisonment. What were his concerns?
MW. He was mostly worried about the people who've been deprived of their rights and lands by the decree and who'll lose their work and food sources. But he was also concerned about the environmental degradation that would occur and that had already begun with the cutting of mangrove trees, the golf course project, the loss of arable land, paving for the harbor, and so on, and also the regulations being put in place, like the types of equipment allowed and licenses required, that will affect artisan fishermen.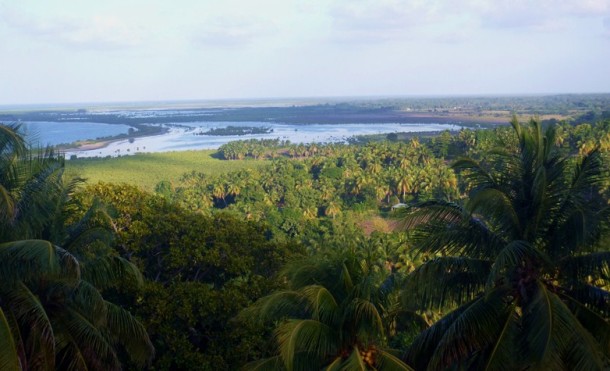 DC. Anything else you'd like to say?
MW. I would add that Ile a Vache is a jewel that people have treated respectfully and managed for decades without government assistance and in total oblivion. It is ironic that, in the name of "sustainable and ecological development," they've begun to damage one of the last pristine Caribbean islands, instead of preserving it, making it a natural park, helping the people to live a less difficult life, and ensuring that the place retains its authenticity and unique style. They're preparing, under the pretext of development, to destroy all this beauty and harmony. To think that they want to build an international airport, and the population does not even have a decent ferry to get to Cayes!
Let us ask the question: what kinds of tourists want to vacation on an island where they have trampled the rights of people and destroyed the environment?
UPDATE. A judged finally heard Jean Matulnes Lamy and gave him a sentence of one month in jail (he had already served 10 months), plus a fine of 32 gourdes ($0.69). He was released from prison on December 12, 2014.
Editor's Notes: This interview is also available in French. | All photographs courtesy of Melinda Wilson.

Quel genre de tourisme serait durable pour l'Ile à Vache, d'Haiti?
Interview de Dady Chery avec Melinda Wilson
À la suite de catastrophes naturelles, ou à l'avance d'événements tels que la coupe du monde de football ou les jeux olympiques, divers gouvernements et entreprises privées s'emparent de terres côtières. L'Île à Vache est un parfait exemple. Depuis plus d'un siècle, cette île de 50 kilometres carrés, à environ 12 kilometres des Cayes, une ville au sud d'Haïti, n'a pas reçu de services publiques essentiels comme l'électricité ou l'eau potable. Néanmoins, les habitants, pour la plupart des petits agriculteurs et des pêcheurs qui sont aujourd'hui environ 20.000, ont embelli et reboisé l'île à tel point qu'elle est maintenant reconnue comme l'île la plus belle et la plus naturelle des Antilles. Ceci, malgré qu'une administration haïtienne ait autorisé l'exploitation forestière de l'île par un homme d'affaires proche du Président Americain Abraham Lincoln, Bernard Kock, qui avait, en 1863, literallement remi en esclavage des Afro-Américains libres.
Le pouvoir exécutif d'Haïti est de retour à l'Île à Vache, sous le prétexte de la "développer" de façon "durable " pour l'écotourisme. Mais, en réalité, il s'agit de s'accapparer tous les aspects de l'administration de l'île sous la tutelle du gouvernement afin de s'approprier les côtes et pratiquement tout le reste. Les habitants, qui étaient les derniers à etre informés sur ce projet, le résistent avec un blocage régulier de toutes les constructions. Ils ont formé plusieurs groupes pour représenter leurs intérêts. L'un d'eux est le Konbit Peyizan Ilavach (Kopi), dont le vice-président, Jean Matulnes Lamy, a été emprisonné dans l'ignoble pénitencier national de Port-au-Prince sans motif, sans inculpation et sans jugement depuis le 25 février 2014.
A News Junkie Post, nous avons examiné de plus près le tourisme à l'Île a Vache avec l'auteur et conférencière primée Québéquoise, Melinda Wilson. Mme Wilson est une experte sur les aspects biologiques et ornementales de l'horticulture et une vacancière soucieuse de l'environnement qui connaît très bien l'Ile à Vache.
Dady Chery. Je vous remercie d'avoir accepté cette interview avec nous, Mme Wilson. S'il vous plaît, pourriez vous dire à nos lecteurs quand exactement fut votre dernière visite à l'Île à Vache et était-ce la première fois?
Melinda Wilson. J'ai effectué un séjour de 3 semaines sur l'île avec deux de mes amis en février 2014. Pour moi c'était ma 3ième visite apres 2011 et 2013, pour Alain sa 2ième visite apres 2013, et pour Serge sa 1ère. Nous avons pu contaster un changement dans l'atmosphère qui régnait. Les gens étaient plus méfiants. Les tensions étaient palpables. Nous avons subi de l'agressivité verbale, des bloquages sur la route, des demandes d'argent. Les gens nous associaient aux investisseurs et nous disaient de nous en aller. Il nous fallait prendre le temps de leur parler et de leur expliquer que nous étions contre le projet de développement et avec eux dans leur lutte. Un de nous, Alain, se trouvait à Kay Kok lors de l'arrivée d'une manifestation. Il a été pris à parti par un groupe de personnes et il s'en est fallu de peu pour que cela tourne mal.
DC. Comment était la présence policière cette année par rapport aux précédentes?
MW. Pour ma part, je n'avais jamais remarqué de présence policière sur l'île auparavant. Je crois qu'il y avait seulement deux policiers pour toute la commune. Nous avons été témoins du débarquement d'une force armée, BIM [Brigade d'Intervention Mobile], et de patrouilles de bateau autour de l'île. Ces gens, fortement armés avec des armes automatiques, faisaient des déplacements en jeep sur l'île de façon à se faire remarquer et à intimider la population. Il sont plus de 100 maintenant. Au début ils résidaient à Abaka Bay Resort, mais dans le projet pour l'île on indique que l'on va construire un édifice pour les abriter: ce qui signifie que leur présence serait permanente. A Kay Kok, les policiers avaient réquisitionné un emplacement: un genre de commerce ressemblant à un espace de discothèque avec quelques baraques.
DC. Avez-vous vu des travaux de construction?
MW. Nous sommes allés sur le site du nouvel aéroport. Les travaux étaient interrompus à ce moment, mais les travailleurs de l'entreprise dominicaine Estrella résidaient dans un campement adjacent construit pour les loger en attendant la reprise des travaux. L'aéroport est situé à la pointe est de l'île, sur des terres qui servaient à la culture et au paturage pour les animaux. Le sol arable a été complètement gratté. On peut tout de même voir encore au sol les traces des carrés d'habitation de certaines maisons qui ont été rasées. Pour construire la route qui va de l'aéroport à la pointe ouest de l'île, on a empiété, sans aucun dédommagement, sur les terres des gens. Maintenant certaines maisons sont tout au bord de cette nouvelle route et on a coupé et abîmé sans ménagements des arbres fruitiers. Cette route remplace des sentiers pédestres qui respectaient l'environnement, et elle est beaucoup trop large pour l'utilisation qu'on en fera. Nous avons aussi visité Abaka Bay Resort qui a commencé à couper la mangrove derrière l'hôtel pour agrandir et construire de nouveaux bungalows. Nous avons aussi été témoins du débarquement de pierres venant probablement de fonds marins pour la construction de murets pour l'hôtel.
DC. Le jeudi est jour de marché à l'Île à Vache. Avez-vous visité le marché au cours de votre séjour? La nouvelle installation, a-t-elle amelioré les choses?
MW. Le marché de Madame Bernard a lieu tous les lundi et jeudi. Beaucoup de marchands viennent des Cayes, mais il y a aussi des marchands qui viennent de partout sur l'île pour vendre leurs petites productions. Je m'y rendais chaque semaine. Les marchands ne sont pas du tout installés dans le nouveau marché, qui est par ailleurs très mal conçu, avec des emplacements qui rappellent des étables pour le bétail. Les marchands préférent rester sur la terre battue et même dans la boue!
Le nouveau bâtiment etait construit par les soldats de la MINUSTAH. Il a le toit qui fuit et l'eau est stagnante au sol après la pluie. De plus, on veut faire payer les marchands — une somme modique, mais pour certains, c'est trop — et leur donner un emplacement fixe, ce qui ne semble pas leurs plaire.
DC. Avez-vous vu des manifestations?
MW. Nous avons été témoins d'au moins trois manifestations, toutes pacifiques. Les manifestations réunissaient plusieurs milliers de personnes. La principale revendication de la population est le retrait de l'arrêté, à quoi s'ajoute la négociation avec le gouvernement et maintenant la libération de Jean Matulnes Lamy.
DC. Et en ce qui concerne la brutalité policière?
MW. Nous avons été témoin d'intimidations: des milices armés parcourant l'île en groupe, et de menaces. Par example, le propriétaire d'Abaka Bay a mentionné qu'il faudrait arrêter tous les manifestants pour avoir la paix. Nous avons remarqué des gens arpentant l'île et notant les noms des habitants en identifiant leur lieu de résidence. On nous a dit également que certaines personnes avaient été bousculées et blessées durant les manifestations.
DC. Deux membres de Kopi, Louis Jean Gadi et Jean Matulnes Lamy, ont noté que les deux hôtels de l'île, Abaka Bay Resort et Port Morgan, emploient des personnes en provenance du reste du pays et pas des habitants. Etes vous d'accord?
MW. Il y a des employés des hôtels qui proviennent de l'île. Combien? Je ne saurais le dire, mais ils n'occupent pas nécessairement des emplois de haut niveau et sont plutôt employés comme ouvriers, gardiens, serveurs ou employés d'entretien.
DC. À votre avis, Mme Wilson, il ya t'il en fait un avantage du tourisme pour la population de l'île?
MW. Lors de nos visites, nous demeurons chez l'habitant. Cela mous permet de donner de l'argent directement aux gens qui nous hébergent et nous nourrissent. Nos dépenses sur place comprennent: nuitées, repas, déplacements en bateau et moto, guides, achats auprès des petits commerçants, et services divers. Pour ma part, je fais aussi du travail bénévol au centre d'accueil St-François tenu par Sœur Flora, une québécoise. Je paie une pension quand j'y suis. Nous ne résidons pas dans les hôtels, d'une part par souci éthique et d'autre part à cause du traitement, salaire minime, non-respect de la population, pratiqué par ces hôtels qui ont aussi, par ailleurs, des tarifs très élevés et ont peu de bénéfices pour la population.
DC. Vous avez interviewé Jean Maltunes Lamy peu avant son arrestation et emprisonnement. Quels étaient ses soucis principaux?
MW. Ses principales préoccupations vont aux habitants qui sont dépossédés de leurs droits et de leurs terres par l'arrêté. Ils perdront leur gagne-pain et leurs sources de nourriture. Mais il est aussi préoccupé par la dégradation de l'environnement qui surviendra, et qui a déjà commencé, avec la coupe d'arbres et de mangrove, le projet de golf, la perte de sol cultivable, l'empierrement pour les quais etc., ainsi que de la réglementation qui doit être mise en place et qui affectera les petits pêcheurs: matériel règlementaire, permis, et autres choses.
DC. Voudriez vous ajouter quelque chose?
MW. Pour conclure, j'aimerais dire que l'Île-à-vache est un joyau que les habitants ont su conserver et aussi exploiter de façon respectueuse depuis des décennies, sans aide gouvernementale et dans l'oubli total. Il est ironique qu'au nom d'un "développement durable et écologique" on ait commencé à abimer l'une des dernières îles intouchées des Antilles, au lieu de la préserver, d'en faire un parc naturel et d'aider les habitants à avoir une vie moins difficile, et de faire en sorte qu'elle conserve son authenticité et son cachet unique. On s'apprête donc, sous prétexte de développement, à détruire toute cette beauté et cette harmonie. Quand on pense que l'on veut construire un aéroport international et que les habitants n'ont même pas une navette maritime pour se rendre aux Cayes!
Posons-nous la question: quels genres de touristes voudront aller passer des vacances dans une île où on aura baffoué les droits des habitants et détruit l'environnement?
Sources: Haiti Chery