Paulson Claims Of No Wrong Doing In The Bank Of America/Merrill Deal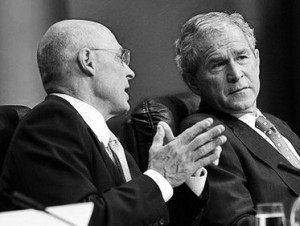 Yesterday, the House Oversight & Government Reform Committee continued its investigation of the Bank Of America – Merrill Lynch merger. It was the 3RD part of the hearing titled: " Bank Of America & Merrill Lynch: How did a private deal turn into a Federal bailout?"
After hearings with Bank Of America's Ken Lewis and Fed Chairman's  Ben Bernanke a few weeks ago, it was the turn of  former Treasury Secretary & ex-Goldman Sachs executive  Hank Paulson to be on the hot seat in front of  Congress.
In his opening statement, Hank Paulson was defiant, arrogant & " proud " of his handling of the financial meltdown that took place at the end of 2008. Paulson stated:
" I served as Secretary of  The Treasury from July 2006 to January 2009. During my tenure the world experienced a financial crisis unprecedented in our lifetimes. The crisis presented a relentless series of novel challenges that required swift, innovative and dramatic responses. I am proud to have been among the many public servants- in the Congress and at the Treasury, the Federal Reserve, the FDIC, the OCC and other agencies of the government- who came together to confront these challenges, and to prevent a far more damaging meltdown of our financial system."
After this fictional & self indulging recollection of how proud he was about his role in dealing with the financial crisis, Paulson stood his ground and  refused to recognise any deception, failure or even mistake from his part. Paulson then gave a time line of his version of the events.
" On September 15, 2008, Bank Of America entered into an agreement to acquire Merrill Lynch. On November 26, 2008 the Board of Governors of the Federal Reserve approved the merger. The shareholders of both firms ratified the merger on December 5, 2008. On December 17, 2008, Mr. Lewis called me and told me that Bank Of America was considering exercising the Material Adverse Change ( or MAC) clause to terminate the Merrill Lynch acquisition. I recognized the danger that the potential dispute arising from invocation of the MAC clause would pose for Bank Of America, for Merrill Lynch, and for the economy as a whole, and that evening, at my request, Mr. Lewis met with Chairman Bernanke, me, and other Federal Reserve and Treasury officials to discuss the matter."
This is likely when the " discussion " tone took a turn similar to the one of the Sopranos or the Godfather, when Paulson and Bernanke took their " shot guns " out to make Lewis an offer he just could not refuse.
As expected, Chairman Kucinich did not buy Paulson self rightousness and went after him with a vengeance in his statement. He stated:
" Nothing in Mr. Paulson's testimony today justifies the government's decision to ignore evidence that Bank Of America withheld information from its shareholders about mounting losses at Merril Lynch before the crucial vote on December 5- a potential illegal act. I have seen no justification for the government to override recommendations of professional staff at the Fed for greater accountability of Bank of America's top executives. Yet, that is precisely what Mr. Paulson & Mr Bernanke did."