Bernanke Defends Fed's Response To Crisis On PBS Forum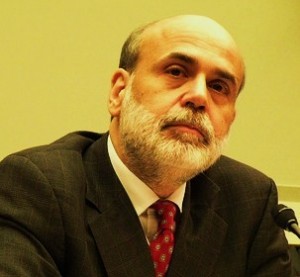 A town hall meeting, hosted by PBS  Jim Lehrer, at the Federal Reserve Bank in Kansas City gave Fed Chairman Ben Bernanke a much needed opportunity and tribune to explain, in depth, the difficult decisions made during the worst part of the global financial meltdown.
Americans still have a lot of unanswered questions, and the forum's purpose was to bring some much needed clarification in regard to the controversial decisions made by the Fed and the Treasury in September 2008.
A general question from a member of the audience triggered Bernanke to address the issue of the Federal Reserve independence from Congress and the administration. Jim Lehrer had this pointed follow up question.
Jim Lehrer: "So when you get up in the morning, who do you go to work for? Who do you feel you are answerable to?"
Ben Bernanke: "I am answerable to the American people. I was appointed by the president to a 14-year term as a governor, but a 4-year term as the Chairman of the Fed, and I was approved- I was confirmed by the Senate. So, I obviously went through a political process to be appointed, but again, the Federal Reserve Governors, the Board of Governors, the seven people who are at the head of the Fed in Washington, are generally professional, technical people who are not lifetime politicians."
After several questions from the audience, and answers from the Fed chairman ; the topic became  more specifically the global financial meltdown and the economic crisis.
Jim Lehrer: "Mr. Chairman, first, do you agree with the perfect storm analogy?"
Ben Bernanke: "A lot of things happened. A lot of things came together. It created, I think, probably the worst financial crisis since the Great Depression, and possibly even including the Great Depression, so yes, I agree."
For the full transcript of the PBS town hall/ forum with Ben Bernanke hosted by Jim Lehrer click here.