Iran: Khatami Joins Forces With Rafsanjani & Calls For Referendum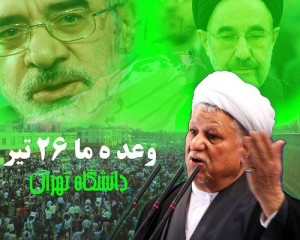 Former President of the Islamic Republic, Mohammad Khatami is calling for a referendum to decide of the election legitimacy. Khatami was quoted saying on a website that: " Million of Iranians had lost faith in the electoral process", since the contested election of June 12th.
Khatami has now forcefully joined forces with Mousavi and another former President; Hashemi Rafsanjani. In a sermon delivered at Tehran University last Friday, Rafsanjani re-energised the protest by bringing back onto the streets thousands of demonstrators.
By law, the only authority in Iran who could organise such a referendum is the Islamic Republic's Supreme Leader, Ayatollah Khamenei.
As the pressure within Iran's power brokers elite such as Rafsanjani and Khatami grows, the Supreme Leader could have to make a re-evaluation of his unconditional support for Ahmadinejad. The reformist movement is not going to fade away any time soon. It is more a question of when than if, the Supreme Leader will have to cave in and make concessions to the reformists' requests.