Iran:Clashes Between Mousavi's & Ahmadinejad's Supporters At Anti-Israel Rally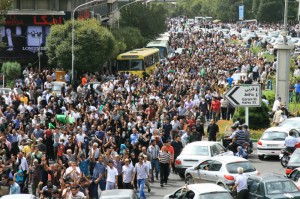 Today in Tehran riot police clashed with stone throwing demonstrators after opposition leader Mousavi was forced to leave the demonstration. According to opposition websites, other opposition leaders such as former president Khatami  were attacked by men on motorbikes likely to belong to Basij militia.
Before the clashes occurred, Mahmoud Ahmadinejad  spoke in front of a crowd of  around 100,000 supporters. Ahmadinejad, once again, declared the Nazi Holocaust a myth, and said that the state of Israel was founded on a lie. He accused Western powers of creating the "myth of the Holocaust".
"If as you claim the Holocaust is true, why can a study not be allowed? The pretext for establishing the Zionist regime is a lie, and the occupation of Palestine has nothing to do with the Holocaust," said Ahmadinejad while the crowd chanted "Death to Israel". Ahmadinejad proceeded then on telling the crowd that "Israel is on its way to collapse".
Clashes broke out between Mousavi's & Ahmadinejad's supporters shortly after the opposition demonstrators shouted slogans in favor of Mousavi, and also "Neither Gaza nor Lebanon, I will sacrifice myself for Iran". The police then started beating protesters with batons and fired tear gas on the protesters who were throwing stones and shouting:"Torture and rape are not effective anymore". Mousavi's supporters also shouted: "I will fight, I will die, but I will take back my country," and "Supreme leader, this is the last message: The green movement is prepared for the uprising".
An elderly woman supporter of the reformists said:"They have raped, murdered and tortured or youth after stealing the election. May God's wrath come down on them."
The opposition supporters defied a heavy security presence and dire warning from security officials. A witness said that tens of thousands of Mousavi's supporters were present and that the clashes were provoked by the Basij militia with the police trying to intervene, at first, to keep the two groups apart.
The Obama administration promptly reacted to Ahmadinejad's speech. The US ambassador to the United Nations Susan Rice said the President will not have "direct engagement" with Ahmadinejad. Rice called Ahmadinejad's comments "hateful". At the White House, press secretary Gibbs told reporters "obviously we condemn what he said".
The long term survival prospect of Ahmadinejad and the Iranian hard liners is becoming bleak. Today's events prove that the green movement is not only alive and well, but has kept intact its ability to mobilize people in the streets. Beside internal pressure, Ahmadinejad is about to face a new international situation where Russia would join the US & the EU to make sanctions on Iran over the nuclear program issue completely crippling.
To see videos & photos of today's events click here.