Iran: The Sham Trial Resumes In Tehran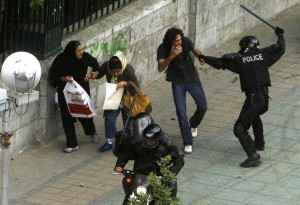 Today, the parody of justice continued in Tehran. This time around the target of the Ahmadinejad regime was clearly Western Europe:Specifically Britain and France. Two Iranian employees, one from the British embassy and one from the French embassy, were in the dock alongside Clotilde Reiss, a 24 years old French woman.
IRNA "news" agency (the propaganda mouthpiece of the regime) said that "she is accused of collecting information and provoking rioters, and played an active role in the unrest by giving information to foreign embassies."
IRNA quoted Clotilde Reiss as telling the judge: "I had written a one page report and submitted it to the cultural department of the French embassy. I was planning to leave Iran, but I took part in rallies of June 15 and 17 in Tehran and took photographs. I did this out of curiosity, and to be aware of the political situation." Reiss denied preparing a technical report for the French embassy on Iran's nuclear program.
In the case of Hossein Rassam, the Iranian working for the British embassy, it is even more serious:He has been accused of spying, once again this is according to IRNA.
In the UK, the Foreign Office spokesperson made the following statement:
"We deplore these trial and the so-called confessions of prisoners who have been denied their basic human rights. Our Ambassador in Tehran has demanded early clarification of the position from the Iranian authorities. We will then decide how to respond to this latest outrage."
Meanwhile, Amnesty International said that there had been an alarming spike in executions in Iran since the June 12TH election. Amnesty International Secretary General, Irene Khan stated:
"In just over 50 days, we recorded no less then 115 executions.This represent a significant increase, even compared to the appallingly high rate of executions that has been so long a feature of the human rights scene in Iran."