Afghan Elections: 54 Percent For Karzai, But Convincing Evidence Of Fraud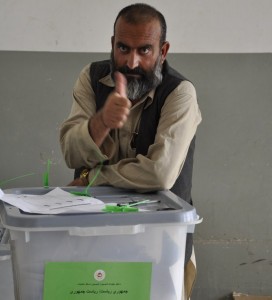 Partial results released today give Hamid Karzai 54 percent of the votes, if the result is confirmed by the Independent Election Commission (IEC), it would allow Karzai to win without a runoff with Abdullah Abdullah.
However, the  UN-backed Electoral Complaints Commission (ECC) in Afghanistan has ordered  the IEC  to recount votes at certain polling stations showing strong indications of electoral fraud. In a statement issued today, the ECC said it had found "clear and convincing evidence of fraud", with some ballot boxes containing 95 percent of ballots for one candidate (usually Karzai) and some with more than the maximum number of 600 ballots. More than 200,000 suspicious ballots, coming from 447 polling stations, were already pulled out from the vote count at the request of the ECC.
Meanwhile, Kai Eide, a Norwegian diplomat appointed by the United Nations as a special representative to Afghanistan said that the Electorate commission should ensure that "the results are clean", and that ballot boxes which were tainted by evidence of irregularities should be excluded from the vote count.
"The integrity of these elections is of the utmost importance to Afghanistan, and its international partners. I am calling on the IEC & the ECC to redouble their efforts to ensure full accountability in their work at every stage," said Eide.
Today, Afghanistan grabbed the political headlines in Germany. In an address to parliament, Angela Merkel expressed her "deep regret" for the civilian casualties from Friday's NATO air-strike. Merkel justified Germany's military involvement in Afghanistan by saying "the Taliban & Al-Qaeda had Germany in their firing line", and not only Britain & the United States. Friday NATO's air-strike killed 125 people which included at least two dozen civilians. Merkel also announced that Germany, France & Britain want to hold a conference on Afghanistan, before the end of the year, to assess the situation and to put more pressure on Hamid Karzai into taking on more responsibilities.
US ambassador Karl Eikenberry met Monday with Hamid Karzai to discuss the election. No statement were made after the meeting, but some people from the embassy told reporters that the goal of the meeting was to urge Karzai not to declare victory before the results were officially confirmed. The recount process will take several weeks, and could even increase the precarious state of affairs in Afghanistan. Today, 4 more US soldiers were killed near the border with Pakistan, and a suicide attack took place outside of Kabul airport.