Deadly Bomb Blast In Kabul Outside NATO Base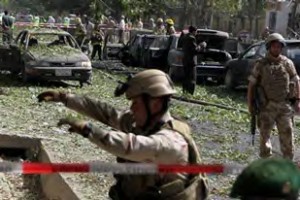 Today, a huge blast right outside the NATO military base left 8 people dead and about 71 wounded. The Taliban claims responsibility for the car bomb.
The attack (see photo) took place in what is supposed to be one of the most secured location of Afghanistan, and shows that the Taliban have the ability to strike anywhere and at anytime.
President Karzai said that the attack was intended to create fear ahead of the election, but insured that "Afghans will not be scared of such threats and will go to the voting booth." Two days ago, Karzai had urged for the fighting to stop ahead of the elections.
A Taliban spokesman said that the strike was carried out by a militia member in a car packed with 1,000 pounds of explosives.
Despite statements from the Taliban that they would not attack polling stations on August 20, there are growing fears that assaults or the threat of violence could see Afghans voters stay away from the polls, undermining the validity of the elections. As much as 1/3 of the polling stations could be closed in Afghanistan due to the dramatic increase of security concerns.