Greenpeace's Message To G20:Danger-Climate Destruction Ahead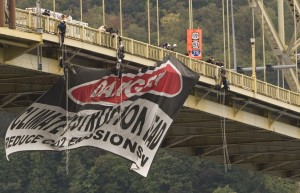 Today, the police in Pittsburgh arrested 9 Greenpeace activists. The environmental group started what are expected to be protests at the G20 summit. The 9 activists arrested were suspended from a bridge and unrolling a large banner bearing the message "Danger:Climate Change Ahead" (see photo). The banner hung for 2 hours from the bridge near Pittsburgh's baseball stadium. By the warning message in the banner, Greenpeace's intention is clearly to put pressure on President Obama to place the United States firmly in the lead to tackle environmental issues.
The banner takes the form of a giant stylized road sign that warns of the political maneuvering and delay that have put an international climate treaty in jeopardy, and plagued negotiations as the world enters the final stretch before the UN conference on climate change in Copenhagen.
"It is imperative that developed countries world leaders do not fail again in Pittsburgh. They must put money on the table to support developing countries. It is also critical that G20 leaders agree to kick start economic recovery through clean energy investment. Both of these elements are vital to achieve a good deal in Copenhagen and avoid catastrophic climate change," said Damon Moglen, Greenpeace USA's global warming director.