President Obama Must Attend Copenhagen's Climate Conference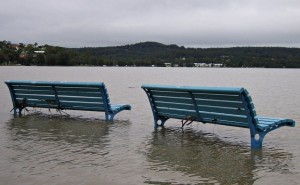 Sixty five world leaders have already confirmed they will attend next month's UN climate conference in Copenhagen. President Obama has not confirmed his attendance yet, and if the US President doesn't go it will give a serious blow to the conference outcome.
The hopes of reaching a legally binding agreement have slipped into next year, but Denmark invited 191 heads of state and government to attend the final two days of the conference in a push to boost forces for at least a political commitment at the conference.
"To cut through the outstanding issues and make an ambitious deal, the active involvements of heads of state and government is crucial. That is why we are encouraged that already more than 60 heads of state and government have confirmed they will participate," said Danish Prime Minister Lars Rasmussen today.
Apart from the United States, all industrialized countries have given specific targets for their greenhouse gas emission reductions. German Chancellor Merkel and French President Sarkozy jointly expressed their concerns on Thursday that "ambition for countries to agree on cuts to greenhouse gas emissions at Copenhagen seem to have shrunk."
"Next year, if possible during the first half, we must clinch a binding deal which will have international oversight of each country's obligations," said Chancellor Merkel.
"We do not want a summit with bad compromises. Europe has done a lot, we need movements from all parts of the world," said President Sarkozy. Both Chancellor Merkel and President Sarkozy will attend Copenhagen.
A panel of UN scientists has recommended that developed countries make emissions cuts of between 25 percent and 40 percent below 1990 levels by 2020 to avoid a catastrophic rise in sea levels, harsher storms, droughts and climate disruptions.
The EU has committed to cut its emissions by 20 percent by 2020. Russia and Japan are promising a 25 percent cut. The United States is considering a much smaller cut of 17 percent from 2005 levels or about 3.5 percent from 1990.
If you think President Obama should attend the Copenhagen conference to show that his administration is serious about tackling climate change, please contact the White House and let the Obama administration know where you stand. Feel free to copy and paste this article in the message box.
You can also sign Greenpeace's petition urging President Obama not to further delay action on climate change.