350.org's Huge Success In Its Global Action On Climate Change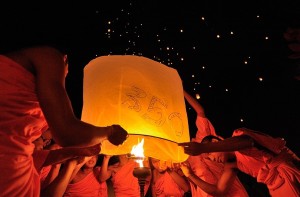 Saturday was a huge success for 350.org, considering how new the environmental organization is. Thousands of people gathered all over the world to hold events, and put some fire under the feet of our policy makers to demand urgent action on climate change.
In New-York City  hundreds gathered to watch other events, taking place all over the planet, on giant screens. 350's events were held in Australia, Ecuador, India, the UK, the US, Denmark, Egypt, Jordan, Israel etc.
For the one wondering what this mysterious number 350 is about, it is the number that leading scientists say is the safe upper limit for carbon dioxide- measured in Part Per Million (PPM)- in our atmosphere. It is the number humanity needs to go back to, if we want to avoid the outcomes of catastrophic and irreversible climate change. We are currently at 385 PPM, not 350PPM. In other word, we are already in the danger zone.
The site 350.org was founded by environmentalist and author of "The End of Nature"  Bill McKibben.
"It was ordinary people rallying around a scientific data point. Nothing like that ever happened before," said McKibben, sounding a bit overwhelmed by the scope of the success of his global event. Volunteers sent photos from all over the world. The one illustrating this article is a photo of Buddhist monks taken in Thailand.
The goal of McKibben is to put pressure on world leaders by this incredible global grass root action before the international conference on climate change that will be taking place in Copenhagen in December.
Find out how you can get involved and help 350.org in their fight for a comprehensive international agreement to reduce carbon emission by clicking here. To see  photographs of Saturday's events on  350.org's flickr photo-stream click here.