Climate Change: No Binding Deal On CO2 Emissions In Copenhagen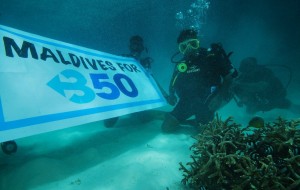 As we get closer to the critical UN-sponsored climate change conference, to be held in Copenhagen in December, world leaders are working hard on lowering expectations as opposed to forcefully work together on lowering CO2 emissions.
To avoid a complete fiasco and salvage what he can, Danish Prime Minister Lars Rasmussen, who is leading the group overseeing the UN climate conference, proposed a two steps approach at the Asia-Pacific conference over the week-end. President Obama and other world leaders gathered at the APEC forum agreed on Rasmussen's proposal which aims to strike a political deal that will push a more comprehensive binding deal down the road.
"Even if we may not hammer out the last dots of a legally binding instrument, I do believe a political binding agreement with specific commitments to mitigation and finance provide a strong basis for immediate action in the years to come," said Rasmussen.
However anyone  spins it, what happened at the APEC forum last week-end is a serious blow for the hope that Copenhagen would be a "game changer" on climate change. This new approach of having first a non-binding political agreement put the world's two largest emitters, the US and China, off the hook. It seems to be nothing more than a delaying tactic.
"There was an assessment by the leaders that it was unrealistic to expect a full, internationally legally binding agreement to be negotiated between now and when Copenhagen starts in 22 days. We thought it was important that Copenhagen be an important step forward," Michael Froman, President Obama's national security adviser for international economic affairs, told reporters at APEC.
Once again, world leaders from the biggest CO2 emitting nations, including President Obama, have already adopted the strategy of moving one step forward then one step backward on climate change. Meanwhile, environmental activist, author and founder of 350.org, Bill McKibben, reacted to yesterday's bad news and pledged to keep on fighting.
"It is too bad that citizens all over the planet are so far in advance of their leaders, but it makes it very clear that we will need to keep growing our movements quickly. Nothing else can counterbalance the power of the vested interests that have so far been able to delay action. The next good chance will come on the week-end of December 12, when there will be candlelight vigils and rallies around the world. Many will take place at American embassies and consulates, because we continue to believe- perhaps against the evidence- that the Obama administration will rise to the occasion and really lead in finding solutions to the crisis that it more than any other nation has caused," wrote Bill McKibben.
President Obama has not committed to be present in Copenhagen. If he doesn't attend, it will give a clear indication of his lack of will to tackle the issue of climate change.
To keep updated on the activities of 350.org and the upcoming action of December 12 click here.
Another interesting grassroots international organization, which goal is to connect people worldwide, and help them push their respective leaders on climate change issues in Copenhagen is Hopenhagen.