The Family: Fundamentalists Preaching A Gospel Of American Empire

By Gilbert Mercier

NEWS JUNKIE POST

Nov 27, 2009 at 10:37 am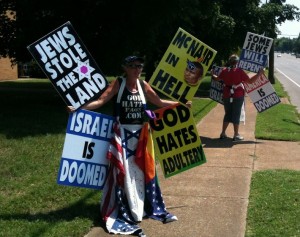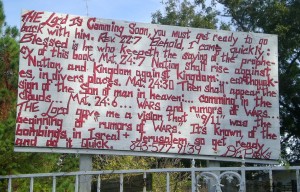 In his new book, The Family, journalist Jeff Sharlet takes us inside Christian fundamentalism's most elite, disturbing and secretive organization. The Family is fundamentalism's avant-garde, on a mission to wage a spiritual war in the halls of American power and around the globe. They consider themselves the "new chosen", Senators, Congressmen, Generals and foreign dictators who meet in confidential cells, to pray and plan for a "leadership led by God".
The Family is about the other half of American Christian fundamentalist power- not its angry masses (see photos)- but its elites. Jeff Sharlet follows the story of the group back to its founder, Abraham Vereide, a preacher who in 1935 organized a small group of businessmen sympathetic to European fascism, combining the far-right with his own brand of authoritarian faith.
From that core, Vereide built an international network of fundamentalists who speak the language of establishment power. In public, the Family host the National Prayer Breakfast, in private they preach a gospel of "biblical capitalism", military might and American empire. Citing Hitler, Stalin and Mao as model leaders, the Family's current leader, Doug Coe, declares "We work with power where we can, and build new power where we can't"
The Family has operated secretively with the help of influential politicians, who are members of the group, to promote their anti-gay, anti-abortion and pro-free market ideas in America and other parts of the world. However, two sex scandals involving people connected with the Family, Nevada Senator Ensign and South Carolina Governor Sanford, have brought public attention to the group. Also, both Bart Stupak and Joe Pitts are connected to the Family, they introduced the amendment to the health care bill that would prevent funds to cover abortion. Overseas, in Uganda, the Family is connected to a proposed anti-gay legislation that could sentence so called "repeat offenders" to the death penalty.
"The founder of the group, Abraham Vereide, said that God came to him one night in April 1935 and told him Christianity has been focusing on the wrong people; the poor, the suffering, the down and out. Vereide said that "God told him" to be a missionary to and for the powerful, the ones he called the up and out. They could dispense blessing to everybody else through a bizarre kind of trickle-down religion," Jeff Sharlet told NPR's Terry Gross in an interview on November 24.