Human Rights Day: "Embrace Diversity, End Discrimination"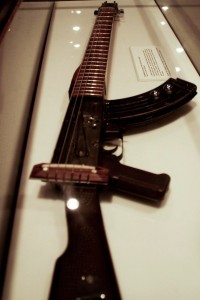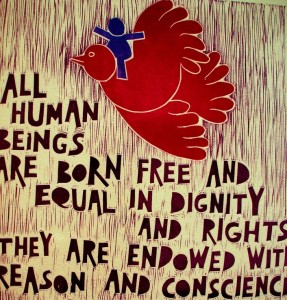 Today, the big story was in Oslo, Norway. The title of it could have been: "War President Receives Nobel Peace Prize". President Obama made the best of  his oratorical skills, talked about war & peace. But yet, the paradox of his win remains. The Nobel is supposed to reward achievements not potentials, to recognize what you have done and not what you could or should do. Instead we want to mark a real international achievement: The 61ST anniversary of the Universal Declaration Of Human Rights.
The United Nations is marking Human Rights Day by stressing the need to eliminate all forms of discrimination.
"No country is free of discrimination. It may appears as institutionalized racism, as ethnic strife, as episodes of intolerance or rejection, or as an official version of history that denies the identity of others. Discrimination targets individuals and groups that are vulnerable to attack: The disabled, women and girls, the poor, migrants, minorities, and all those who are perceived as different," said UN Secretary General Ban Ki-moon, pledging UN commitment to fight inequality and intolerance wherever they are found.
The Geneva based UN Human Rights Council warned that efforts to end discrimination are falling short and progress is even being reversed in some instances. The UN Human Rights Council stressed that globally, stronger commitments and more determined action are required if we are to defeat discrimination. Our ethnic, cultural or religious differences should be acknowledged, valued and respected.
The General Assembly President Ali Treki called for the respect of human rights and fundamental freedoms for all without distinction as to race, sex, language or religion. UN High Commissioner for Human Rights, Navi Pillay, deplored the fact that discrimination is still rampant 61 years after the Declaration's adoption. Pillay focused her attention mainly on woman's rights.
"Women work two-thirds of the world's working hours and produce half of the world's food, yet earn only 10 percent of the world's income and own less than 1 percent of the world's properties," said Navi Pillay.
Irina Bokova, the Director General of the UN Educational, Scientific and Cultural Organization (UNESCO) said this year's theme of  "Embrace Diversity, End Discrimination", is particularly pertinent since the world has become more diverse than ever before.
"It is only through mutual respect, understanding , constructive dialogue and acceptance of the right to be different that we will defuse tensions and build more peaceful multicultural societies," said Irina Bokova.
To read the Universal Declaration of Human Rights adopted by the United Nations on December 10, 1948 click here.