Israel Has No Intention To Freeze The Settlements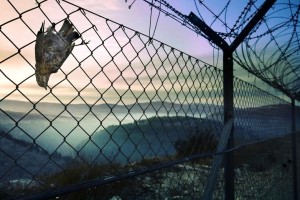 Only weeks after pledging a 10 months settlements freeze, Israel has just approved today listing some Jewish settlements in the West Bank as "national priority zones". This is yet another example of the Netanyahu administration double talk on the issue which is the biggest stumbling block for peace in the Middle-East.
Today's decision by the Israeli cabinet to list the Jewish settlements in the occupied West Bank will entitle the communities in question to 41 million dollars in extra state funding. The decision is likely to stir international controversy, and is a slap in the face for the Obama administration, which has so far failed to put enough pressure on Israel to completely freeze the settlement expansion.
The new funding will benefit 110,000 Jewish settlers. The communities affected by Sunday's decision are outside a large settlement complex that Israel wants to annex from the West Banks under any peace agreement with the Palestinians. Israel Finance Minister Yuval Steinitz told Israeli public radio in an interview that the move was aimed at expressing support for settlements.
"With this we want to send a message to the settlers that we understand their difficulties and want to support them," said Steinitz.
On Friday the European Union expressed great concern over the plan.
"Coordination with the Quartet I think is called for in view of the serious matter of such a move. If  I understand it rightly, it is a rather serious step. If that is the decision that will be taken by the Israeli government, we will most certainly express our views on it," said Swedish Foreign Minister Carl Bildt, whose country holds the EU's rotating Presidency.
However, the European Union can't put real pressure on Israel. The only one that can, but likely won't, is the United States. The cost of Israel to US taxpayers is  3 billion dollars in annual foreign aid plus an additional 2 billion dollars in federal loan guarantee. This amount to the astronomical amount of 5 billion dollars a year. Cutting down the aid should be used by the Obama administration as leverage to get a real compromise from the Israeli government on the settlements freeze issue. But thanks to the all powerful AIPAC, the eight hundred pound gorilla Jewish lobbyist group in Washington, it will not happen. In return, it will make any peace agreement in the Middle-East impossible for years to come.