West-Bank: Palestinian Mosque Torched By Settlers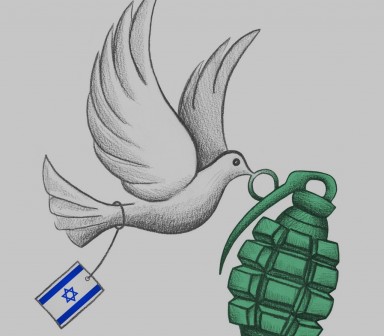 A West-Bank mosque was set on fire and vandalized with graffiti in Hebrew late Sunday night in what police suspects to be an attack by Israeli settlers in protest of any extension of the settlement freeze. Residents of the village Bayt Fajar, near the city of Bethlehem, said that a group of settlers coming from nearby Gush Etzion settlement entered the village late last night and set the mosque on fire before residents were able to stop them.
According to the Haaretz, residents began fighting with the settlers at the scene until Israeli soldiers arrived in the area to break up the fight, and forced the settlers to leave. The attack, not the first one of this type, is the latest in the so-called "price tag" operations, intended to pressure the Israeli government away from making any concessions regarding settlements building in the West-Bank. Prayer carpets and about a dozen copies of the Koran were burnt in the mosque.
The Palestinian authority vehemently condemned the arson attack today. Ghassan Khatib, a government spokesman, said the arson was "a serious escalation in settlers violence". Reports say the word "revenge" was written on the mosque wall in Hebrew.
A spokesman for the Israeli military said it was "taking the burning of the mosque very seriously". However, in previous incidents of such nature, Israeli investigations of mosque attacks have failed to produce any results and any arrests.
The Grand Mufti of Jerusalem, Mohammad Hussein, came to check the mosque earlier today.
"The settlers' message is: Terrorize the Palestinian people. Crimes like these do not terrorize the Palestinian people. On the contrary, such attacks will only embolden the Palestinian people and increase our determination to achieve all of our rights," Grand Mufti Hussein told Reuters.
Israel has occupied the West-Bank, including East-Jerusalem, since 1967. The West-Bank is currently housing almost 500,000 Jews in more than 100 settlements. Meanwhile, 2.5 million Palestinians live in the West-Bank. Jewish settlements in the West-Bank, including East-Jerusalem, are illegal under international law.