UN: Blackwater's Mercenaries Cannot Stay Unpunished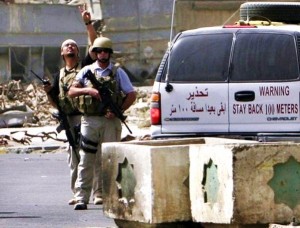 The dismissal of an indictment against 5 Blackwater employees by a United States court is causing a ripple effect and rightly provoking an international outrage. Today, a team of UN human rights independent experts called "for those behind the 2007  incident where 17 people were killed in Baghdad to be brought to justice".
Independently from the United Nations, and in response to the US Federal judge to throw out the case against Blackwater, the Iraqi government announced that it will sue Blackwater in both American and Iraqi courts in connection with the 2007 Nissour Square shooting, in which 20 innocent people were seriously injured.
In the case dismissed on the 31TH of December by judge Ricardo M. Urbina, the 5 Blackwater mercenaries had been charged with voluntary manslaughter and firearms violations.
Today, the United Nations Working Group on the use of mercenaries called on the governments of the US and Iraq to cooperate to ensure that the incident is fully remedied and that those responsible are held accountable.
"We respect the independence of the United States judiciary and the requirement for due process, but are very concerned that the recent decision to dismiss the case against Blackwater guards may lead to a situation where no one would be accountable for grave human rights violations. The Iraqi government and the families of victims correctly feel they have no recourse to justice for the alleged human rights abuses that took place in Nissour Square. Credible oversight and accountability of private security companies working on behalf of the US and other governments remain essential to avoid these alleged violations to be unpunished in the future," said Shaista Shameem, head of the United Nation Working Group.
Unfortunately for the sake of justice, under Coalition Provisional Authority Order number 17, American contractors operating in Iraq have been granted immunity from Iraqi laws. The United States government can still appeal against the 31 December decision by judge Ricardo M. Urbina that "the evidence against the accused was inadmissible".
However, this is unlikely to happen as we recently found out that Blackwater mercenaries are still used extensively by the State Department and also by the CIA. Despite  promises of the contrary; Blackwater, which was called Bush's Praetorian Guard under the previous administration, is still above the law under the Obama administration.
To keep up to date on the murky activities of Blackwater, please follow author, journalist and Blackwater expert, Jeremy Scahill, on Twitter or go to his website.