Indonesia: The Dangerous Business Empire Of The Military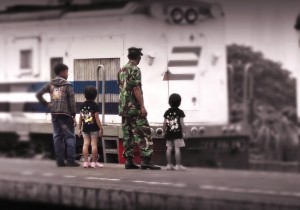 In a report released yesterday, Human Rights Watch (HRW) says the Indonesian government has failed to dismantle the military owned or controlled businesses. The New-York based human rights organization says that these businesses are implicated in human rights abuses, crime and corruption, and could also easily undermine the civilian government.
The HRW's report provides a detailed analysis of the failure from the Indonesian government to regulate military involvement in businesses despite a Presidential decree issued in October 2009. Back in 2004, an Indonesian law imposed a 5 year deadline for the Indonesian government to take over all business activities that are owned and operated by the military.
The military business ventures are a platform for extortion, violence, property seizures and many crimes against civilians. The businesses also provide the military with an independent source of income completely outside their approved budget. In 2007, the Indonesian military had 23 foundations and over 1,000 cooperatives, including ownership of 55 companies, as well as leases on thousands of government properties and buildings. From its various business operations, the military controlled $350 million in assets and earned a profit of $28.5 million in 2007.
Despite the 2004 law mandating the government to shut down all military businesses, the Human Rights Watch report clearly shows that the Indonesian government has no intention to end military ownership of the armed forces businesses.
"The Indonesian government's planned reforms are totally inadequate. The law says the government needs to get the military out of these businesses, but instead they will be allowed to remain in military hands. Promising to monitor them more closely is not good enough. Indonesia's parliament gave the government 5 years to take over all military businesses. It is outrageous that, despite the parliamentary directive, the government has no plan to take over ownership or management of a single military business. The goal of military business reform should be increasing civilian control and military accountability. That won't happen unless the government revises its plan," said  Lisa Misol  from Human Rights Watch. Lisa Misol is the author of the report.
To read the report from Human Rights Watch click here.