Europeans Want Out Of Afghanistan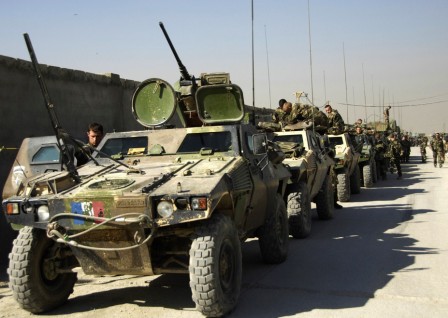 This Saturday, the Dutch government of Prime Minister Jan Peter Balkenende collapsed over The Netherlands involvement with NATO operations in Afghanistan. NATO head Anders Rasmussen had asked The Netherlands earlier this month to extend Dutch's Afghan military mission until August 2011, which is a year later than the originally planned pull out of the Dutch troops.
Just like elsewhere in Europe, the deployment of Dutch troops in Afghanistan is very unpopular with voters. The Netherlands has currently around 2,000 troops deployed in Afghanistan under NATO command, 21 Dutch soldiers have been killed so far in the conflict.
Overall in Europe, the war in Afghanistan is so unpopular that it has become a dangerous political gamble for European governments to support it. For its part, Germany will only send an additional 500 troops to complement the 4,330 German troops already in Afghanistan.
On January 26, Chancellor Merkel had to do a balancing act between NATO's request for more troops with the fact that a majority of Germans are becoming staunch opponent to the war, and think the mission is not worthwhile.
"This will be a new approach in the future, namely protecting the civilian population and training Afghan soldiers. This is a much more defensive approach for which the German army's offensive capacity will be rearranged," said Merkel at a press conference a few weeks ago.
For his part, French President Sarkozy was even more blunt.
"France will not send another single soldier," said Sarkosy, none less reaffirming France's commitment to maintain its 3,3oo troops in the country.
Britain will only send an additional 500 British troops to Afghanistan due to the ever growing opposition tho the war in the UK. The extra 500 troops will bring the total number of British troops deployed to over 10,000. It is by far the single largest European's Afghan contingent. The fact that Britain has an election coming up this year explains why Prime Minister Gordon Brown did not want to commit more troops despite Washington's pressure to do so.
President Obama, when he made the decision to send an additional 30,000 troops was originally counting on Washington's European allies to send an additional 10,000 troops. President Obama's hope will not be met, he will only get an additional 1,000 troops.
In Britain, just like in Germany, France, The Netherlands, Italy and Spain, voters consider that sending additional troops will not do any good, and could even fan the flames of the Taliban insurgency. The numbers of troops from other European countries are 2,850 Italians and just 780 Spanish troops. The current number of   NATO-US led  force in Afghanistan is 133,000, which half is composed by US troops.
Some analysts warn the Netherlands' decision not to extend its Afghan mission could have a domino effect among other NATO countries with troops in Afghanistan. Opinion polls in NATO countries indicate that the majority of people do not support their soldiers' presence in Afghanistan.
"The withdrawal of Dutch troops would be a serious blow to both Afghan and NATO forces. The Netherlands is an important European and NATO country, and if it withdraws from Afghanistan, other European countries too- one after another- will consider leaving Afghanistan," said Ahmad Saidi, a political analyst in Kabul today.
NATO's International Security Assistance Force (ISAF) for Afghanistan was established in December 2001. As of June 2009, the ISAF had more than 61,000 troops from 42 countries including 26 NATO members.
Editor's Note: Please follow The News Junkie Post on Twitter.