Latest Updates: After Chile Massive 8.8 Earthquake-Japan First Major Tsunami Warning In 15 Years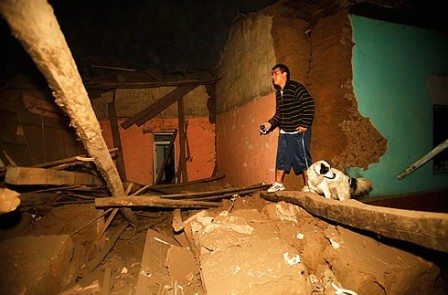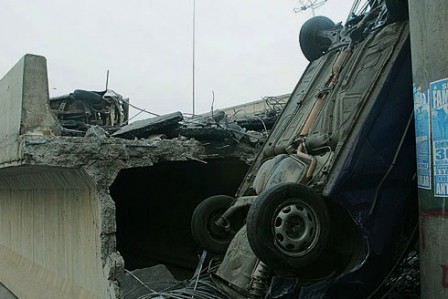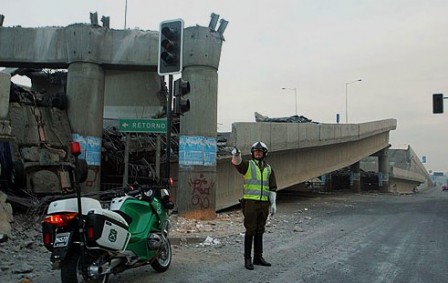 The huge 8.8 magnitude earthquake which hit  central Chile early Saturday has  generated a Tsunami that "may cause serious damage to the coastal area near the epicenter" says the US Geological Agency.
The area hit was in the pacific ocean off the coast of the city of Conception. The earthquake struck 56 miles north-east of Conception at a depth of 34 miles, according to the US Geological Agency. It was felt in Chile's capital, Santiago, 200 miles away from the epicenter where building shook strongly and part of the city had blackouts.
According to Reuters "witnesses reported very strong shaking lasting for up to 30 seconds".
Tsunami Warnings
According to the US geological agency Tsunami watches are now in effect for Chile, Peru,Ecuador, Colombia, Antarctica, Panama, Costa Rica, Nicaragua, Honduras, El Salvador,Guatemala and French Polynesia.
Aftershocks and Death Toll
The US Geological Agency also reports some strong aftershocks.
According to a local radio station from Conception the death toll from the earthquake is 17 people.
AP reports that Chile's President has "declared a state of catastrophe" following the earthquake. The airport in Chile's capital, Santiago, is now closed and there is no communication from greater Santiago. Power blackouts are wide spread.
Chilean TV announces that the death toll is now 78. There is minor damage reported at Santiago's airport according to Foro TV, but it remains closed for lack of ground communication. Chileans have started to put photographs of the earthquake devastation up on Twitter.
Australia is now on Tsunami watch according to Sky News.
CHILE

In Santiago several hospitals are reported to have serious structural damage, and are being evacuated. According to Chilean TV some highway bridges collapsed from the quake. The US Geological Agency keep reporting very strong aftershock, one at 6.9. At least 3 major fires are burning in Santiago, including a chemical plant.
CNN International is now saying that a widespread Tsunami warning is effect for the entire Pacific.
HAWAII
An official Tsunami warning was just issued for the state of Hawaii effective at 12:46 AM local time. Large waves could start arriving in Hawaii as early as 11:00 AM local time. Sirens are scheduled to be activated at 6:00 HST, Waikiki and Oahu will be evacuating thousands from the beach areas 5 hours ahead of time.
Latest Updates For Hawaii's Big Island at 9:00 AM US (PST)
The News Junkie Post just spoke on the phone with Andrew Coyne working with the Big Island Fire Department.
"We are currently evacuating all residents in the coastal areas, they will be moved to higher grounds in community centers and schools. The Mayor has just issued an order not to use phones unless it is an absolute emergency," Coyne said.
Tsunami waves,which are forecast to hit Hawaii at around 11:00 AM (HST), are expected to be as high as 15 to 20 feet and could affect all/any islands of the state of Hawaii.
Latest Updates for Hawaii at 3:55 PM US (PST)
10 minutes ago, CNN Senior National Editor, Steve Brusk, reported via Twitter:
"The Tsunami warning for Hawaii was lifted ," wrote Brusk. Brusk also says that Hawaii's Governor Lingle is not "reporting any damage".
This is a live video stream of the situation unfolding in Hawaii.
Was The Mandatory Evacuation Of The Coastal Areas an overreaction on the part of the state of  Hawaii?

Today, the state of Hawaii dodged a very large  bullet. The 15 feet to 20 feet waves never materialized during the few hours when the Tsunami  waves were to reach the islands, instead the water level went down from the shores than back up a few times, like a giant tide, without presenting any tidal waves. Some people may wonder if the mandatory evacuation was an overreaction from the state of Hawaii's  authorities, but regardless of this point of view what the Hawaiian state showed today was its ability to deal rapidly with such a situation in a perfectly coordinated fashion with its   police forces and its fire department. It was indeed a false alarm, but this type of events are, by essence, unpredictable, and it is a lot better to be safe than sorry.

Tsunami Warnings Trackers And Updates
The National Data Buoy Center is the best site to stay updated in real time on the Tsunami warnings for the entire Pacific. This other global grid will also keep you updated.
US WEST COAST

The National Data Center has just released a list of estimated arrival time for the US West Coast. They are however indicating that a Tsunami arrival time does not indicate a wave is imminent.
Latest Updates for California at 12:10 PM US (PST)
In California 2 to 4 feet waves are reported now in San Diego. The waves will reach the Los Angeles area in about half an hour, and are supposed to be of the same moderate size. No damage are expected in California.
JAPAN
Latest Update at 7:oo PM US (PST)

According to CNN International, Japan has set up a task force, and local government are in the process of evacuating thousands of residents from coastal areas. This is Japan's  first major Tsunami warning in more than 15 years. "Ten of thousands of residents began evacuating from coastal Japan in anticipation of a possible Tsunami." CNN's Kyung Lah says.