Kyrgyzstan: Turmoil Continues Despite Quick Power Shift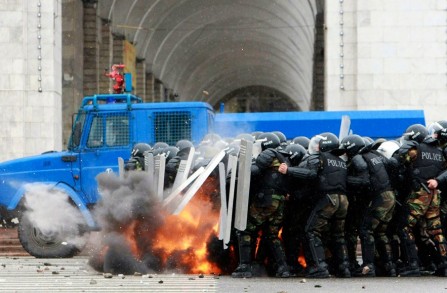 Today, the ousted leader of Kyrgyzstan, President Bakiyev, refused to step down just a day after he was forced to leave the capital, Bishkek, in a bloody popular uprising that left the opposition in control of the country, despite anger still boiling in the streets.
Russia and the European Union said they were supporting the interim government, and its plan to organize new elections within 6 months.
However, Bakiyev, who is apparently hiding in Southern Kyrgystan, told a Russian radio station that he had "no plans to leave at the moment", and that the nation was facing catastrophe. Bakiyev said the country was on the brink of a full fledged humanitarian catastrophe, and conceded that the army and the police were no longer "under his control".
"I declare that as President, I have not abdicated and I am not abdicating responsibility. In many regions of the country, and especially in the capital, we see genuine chaos, a wave of violence and pillage is swelling, and inter-ethnic conflicts are already emerging," said Bakiyev in a statement.
Since riots swept the Central Asia republic on Wednesday, more than 100 people have been killed and over 1,000 seriously wounded. The riots erupted in Kyrgyzstan over widespread government corruption and endemic instability. The popular uprising was also a culmination of growing anger fueled by widespread frauds in last year's presidential election.
Former Foreign Minister, Roza Otunbayeva, who has assumed the function of interim leader, said Bakiyev is trying to rally support in a Southern stronghold of the country. Otunbayeva said that presidential elections would be held in six months. Today, she secured the support of the EU, and more importantly the Russian government. Russia is still the key foreign player in the former Soviet republic. Otunbayeva spoke on the phone with Prime Minister Putin to get his support.
Otunbayeva appealed for calm and told the armed forces to "refrain from force". However, the country's interim Interior Minister sent a different message when he ordered "looters to be shot on the spot". General Ismail Isakov, who has taken over as interim Defense Minister, said "key military leaders have pledged alliance to the new government".
Otunbayeva, in an obvious effort to put Washington at ease, said that the US airbase located outside Bishkek, which is viewed as vital to the NATO military campaign in nearby Afghanistan, would remain open despite the power shift.