Kyrgyzstan: Deadly Ethnic Clashes Between Uzbeks And Kyrgyz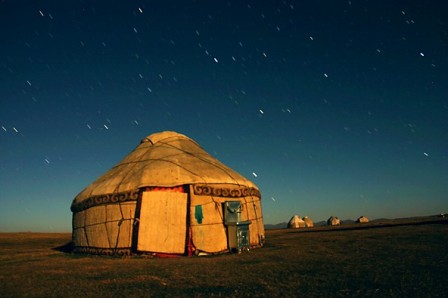 UPDATES:  6/13/2010 AT 10:30 AM US (PST)
Both the BBC and AFP report that the death toll is now more than 100, and that thousands of Uzbecks are leaving the region of Osh and trying to pass the border with Uzbekistan. The interim government of Kyrgyzstan has declared a state of emergency but do not have a grip on the situation after three days of violent clashes.
ON JUNE 12, 2010
At least 75 people have died and more than 1,000 have been wounded in the last two days in violent ethnic clashes between Uzbeks and Kyrgyz in and around the city of Osh  in  southern Kyrgyzstan. The city of Osh is the stronghold of former president Bakiyev who was toppled on April 7, 2010. Bakiyev has since fled the country.
Today's the former Soviet Republic's interim leader, Roza Otunbayeva, made an urgent appeal to Russian president Medvedev to send Russian troops, as she said that the situation in the country is "out of control". According to Agence France Presse, thousands of Uzbek women and children have fled the city of Osh towards the border with Uzbekistan.
"I have signed a letter asking president Medvedev for third-party forces to be sent to Kyrgyzstan. Since yesterday, the situation has gotten out of control. We need outside military forces to halt this situation. For this reason we have appealed to Russia for help," said an overwhelmed Otunbayeva in a televised address.
However, Russia is not willing or eager to send troops in its former Republic, as president Medvedev views the current problems in Kyrgyzstan as an "internal problem". But Russia said that they would send "humanitarian help" right away.
"This is an internal conflict, and Russia does not yet see the conditions for its participation in resolving it," said a spokesperson for president Medvedev today.
Meanwhile, Human Rights Watch, Andrea Berg, who is currently on the front line of the violence in Osh, urged the Kyrgyzstan government to take urgent action to protect all groups in southern Kyrgyzstan from ethnic reprisal. The violence began with a fight between what Berg characterized as "ethnic Uzbek and Kyrgyz gangs", and eventually developed into looting, arson and killing.
"People in Osh desperately need protection. The government should make sure that the military and police make it a priority to prevent violent ethnic reprisal and to protect both vulnerable communities, and people who want to leave the area for safety," writes Andrea Berg.
Human Rights Watch's Berg also urges the United Nations Security Council to intervene and help Kyrgyzstan prevent wide-scale inter-ethnic conflicts between Uzbeks and Kyrgyz.