Protesters Denounce "Plan To Sell Haiti To Foreign Powers"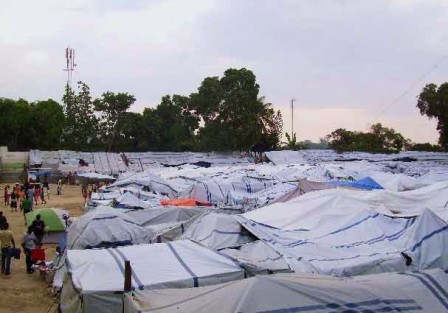 A protest took place in front of the presidential palace in Port-au-Prince on Monday. Haitian police used tear gas and fired warning shots to disperse a crowd of a few thousands calling for President Rene Preval to resign. Haiti's government has come under increased and strong criticism for its response to the January 12 earthquake that killed up to 300,000 people. Hundreds of thousands of Haitians are still living in giant tent cities, and four months after the disaster any significant progress in a coherent and comprehensive re-construction process is the exception not the rule.
More Haitians are getting increasingly frustrated, and on Monday the demonstrators were showing their anger. They denounced what they called a plan by President Preval to sell the country to foreign powers and to stay in power beyond his legal term limit. The protest was called by nearly 40 political parties and other opposition groups.
In March, an international donors conference, under the hospice of the United Nations, pledged $10 Billion over the next 10 years to help Haiti's rebuilding efforts. Projects have to be reviewed and approved by a committee co-chaired by Haiti's Prime Minister Jean-Max Bellerive and former US President and UN special envoy Bill Clinton. The committee is composed of an equal number of Haitians and foreign members.
A lot of Haitians view the creation of the committee as a violation of Haiti's constitution and national sovereignty. Monday's protesters shouted that "Preval should leave power and be arrested" and that "Preval is a traitor because he wants to sell Haiti to foreigners". The demonstration followed Haiti's parliament decision to approve a measure allowing Preval to stay in office until May 14, 2011 despite the fact that the constitutionally mandated date for an election is February 7,2011.
Meanwhile, a call has been made by the Haitian government for more aid from the Haitian diaspora. Speaking on a visit to Paris, Edwin Paraison said that the role of the diaspora is "vital" to the country's reconstruction effort. More than two millions Haitians are living abroad, with the largest communities being based elsewhere in the Caribbeans, in New-York and in Montreal.
"For us the diaspora's participation in the reconstruction of Haiti is vital. It is vital in terms of human resources. There were more than 300,000 victims during the earthquake, and around 20,000 were professionals. Haiti has to drawn once again from the diaspora to fill the gap left by this lack of professionals and brain drain. We have to encourage our friends in the diaspora to return and contribute to the reconstruction of Haiti," said Edwin Paraison, the Minister for Haitians living abroad.
Considering the troubled history of Haiti, nobody can blame Monday's demonstrators for being concerned by a leader wanting to hold on to power and by foreign meddling. Haiti is one of the clearest example of the disastrous consequences of colonialism, neo-colonialism and of continued interventionism. The United Nations focus has been centered on so called security issues while attention to structural economic and social problems has been minimized for years. No lasting social stability and peace will ever be reached in Haiti when over 70 percent of the population lives in poverty, and when half of the labor force is unemployed, almost half of the population suffers from malnutrition, and has no access to drinking water.