Occupy Birmingham: ICE, DHS, and the Modern Market of Slavery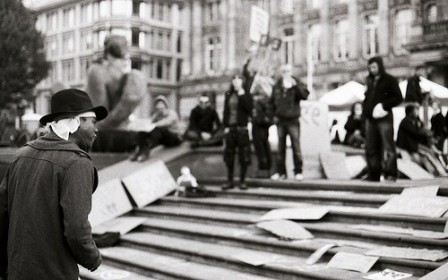 This is public notice of an investigation into the political and fiscal relationship between the Department of Homeland Security's Immigration and Customs Enforcement (ICE, and their agents), the Etowah County Detention Center (ECDC) and staff (especially Sheriff Todd Entrekin), and Representative Robert Aderholt of the US Congress (Alabama's 4th District).
Sheriff Entrekin
I 
reported recently
 on the upcoming 
December 3rd Occupy Birmingham action
 at the Etowah County Detention Facility in Gadsden, AL.  The protest is a public denouncement of Alabama HB 56, entitled the 
Beason-Hammon Alabama Taxpayer and Citizen Protection Act
, the toughest immigration law in the nation – signed into law in June of this year. Among the many jack-booted stomps on civil liberties contained therein is a proviso that local police, upon stopping/questioning someone the have "reasonable suspicion" that the person is an immigrant unlawfully present in the United States must take earnest steps to determine the status of his or her residency.
It also explicitly prohibits undocumented immigrants from receiving any public benefits or from attending publicly-owned colleges or universities.  At elementary, middle, and high schools, though attendance is not prohibited, faculty is required to keep a current tally of suspected "illegals."
It is also an indictment of the Gadsden facility's dehumanizing treatment of non-citizens, a callous, livestock approach that has been widely reported and continues in its malignancy.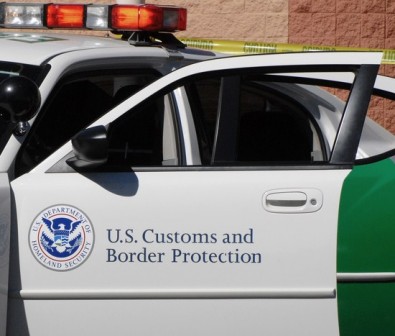 Again, as I noted in my recent piece, the detained immigrants at ECDC have nearly all been given final return orders – meaning they should be sent home – but in fact quite a few of the detainees cannot be returned to their country of origin and have/will not be designated elsewhere. With full knowledge that their wards are entitled to be released immediately if without a practical  date of foreign repatriation, authorities are incarcerating such cases for six months or more, with no accountability.
Section 287(g) is the addendum to the Immigration and Nationality Act allowing the Department of Homeland Security to designate and qualify state law enforcement for immigration enforcement and  federal detention. At the beginning of 2011, the Section 287(g) program at ECDC was slated by ICE to be discontinued, as part of department-wide cost-cutting consolidation measures. The incarcerated immigrants in Gadsden were to be moved to Atlanta (nearer access to federal courts and legal resources).
Etowah County Jail
However – the Etowah facility's approximately 300 ICE detainees provide the county with 40 jobs, in addition to around $5 million a year in additional government revenue. The loss of the detainees would constitute an economic body-blow to a county already reeling from recent recession, and the public was rallied behind Sheriff Entrekin.
Here's where Sheriff Entrekin calls Representative Robert Aderholt of Alabama's 4th district, who in turn arranges  meetings with Director Morton of ICE and others, and lo and behold -on April 8, 2011, the Etowah Sheriff's Office released the following:
ICE TO STAY AT ECDC

Congressman Robert Aderholt spoke with Etowah County Sheriff Todd Entrekin Wednesday afternoon, stating Immigration and Customs Enforcement (ICE) has made a decision to stay at the Etowah County Detention Center (ECDC). The decision came after several months of meetings between the Etowah County Sheriff's Office, the Alabama congressional delegation and ICE.

"Our sincere thanks and gratitude goes to Congressman Robert Aderholt and his staff for their hard work and dedication to keeping jobs and revenue in Etowah County," says Sheriff Entrekin. "This is an example of how government should work. The moment we heard about ICE's surprised us with a decision to move out of Etowah we called Robert. He jumped in with both feet to help and thanks to Robert leading the charge in Washington our voice would was heard and our story told to the decision makers at ICE.

"I want to applaud Congressman Aderholt's work as the Chairman of the Appropriations Subcommittee on Homeland Security." He continues, "Congressman Aderholt's proven and effective leadership is needed in today's government when America is facing continuous threats of terrorism against our nation's security."
Before I lay out the circumstances in detail which indicate the presence of underhanded dealings, a few words first on why I am making this announcement. I make public my investigation for two main reasons. The first is to help force my own transparent handling of the results; the second is a provision for my safety, should what I suspect and what I expect to see evidence of turn out to be demonstrably true.  My pecuniary as well as physical well-being could likely be imperiled should I threaten revelations that convict powerful men, and power is something Aderholt doubtlessly holds in spades.
I have no proof of any illegal conduct, but even if the sure facts, about to follow, are no more aggravated than what appears right now, it is still an instance of gross abuse of power to leverage influence without regard to the interests of the marginalized.
John Morton gets the Big Badge because he's the Director
Sheriff Entrekin contacted Rep. Aderholt, and at the end of what they describe as months of negotiating with ICE administrators, Director John Morton acceded the great benefit of Etowah's cost efficiency and tightly-run ship.
Some problems:
ICE is one of 5 major agencies absorbed into the post-9/11  Department of Homeland Security, and operates as an arm of the DHS.  The DHS is overseen in the House of Representatives by the House Appropriations Subcommittee on Homeland Security, which happened to hold a hearing on ICE's 2012 budget request starting April 1– –  seven days before they announced the renewal of ECDC's contract.
Oh, and the Chairman of the Subcommittee:
Robert Aderholt.

It only gets worse when you add to the narrative a particularly regressive idiosyncrasy of Alabama law: from code established in 1939 (a time when in the South public officials derived most of their income from fees), county Sheriffs are permitted essentially absolute discretion with excess funds apportioned for the jails they administer. Before you scoff at the antiquity and its unlikelihood, consider that in 2009 Sheriff Greg Bartlett of Morgan County was jailed for practically starving his inmates and pocketing the savings on food costs.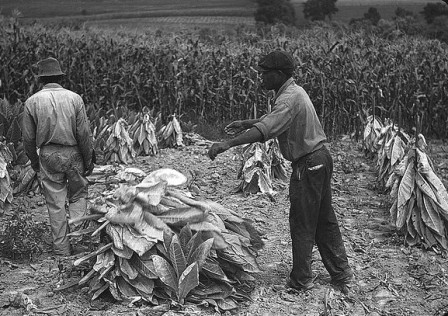 There is a pattern of rigged government endemic to the South which acts as a bulwark of regression. Its typical action is to hamstring the ability of a whole class of people to stabilize their personal interests, let alone prosper and compete. After the civil war,  as slaves tried to establish livelihoods for themselves and take advantage of their new rights under the Fourteenth and Fifteenth Amendments, Politicians in Washington passed remote legislation while the South instituted "Black Codes," and with the abandonment of freed slaves by North, pulling out their troops in exchange for a Republican term in the White House, in 1878, Southern states like Alabama passed constitutions designed to ensnare former slaves in a slavery  indentured commercial and political necessity.  African Americans were herded in the very street for "loitering" and worked, often till death, at the service of  mining corporations, under the long arm of the law.
The new masses of the marginalized are being served with the same fate. All that I have shared with you thus far has been a matter of public record (spoken of proudly, in fact, by participants). The immigrants at Etowah County Correctional facility are being held in judicial purgatory – people who would be under only slightly different conditions classified as "stateless people" and eligible for the protection of political asylum in any UN member nation are exploited for their price per head in rent from the Federal government. Illegal or not, and I suspect (hence, am investigating) that much done was less than kosher, the leverage exerted by Robert Aderholt on behalf of fellow Etowah county native Sheriff Entrekin was a gross conflict of interest.
Join Occupy Birmingham and others in speaking up for these exploited people. Raise your voice.
Slaves no more.